Badlands South Dakota Wearing KariPearls
Badlands South Dakota is a land of mysteries. Here this ever changing landscape wears KariPearls.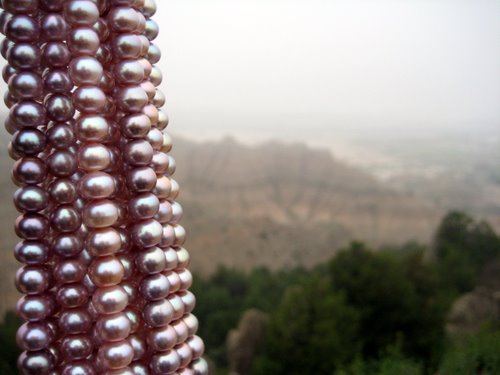 Kari Pearls in South Dakota
John, Sarah and I just returned from a road trip through Iowa, Minnesota, South Dakota, Wyoming and Nebraska. Naturally, I brought along my lovely pearls.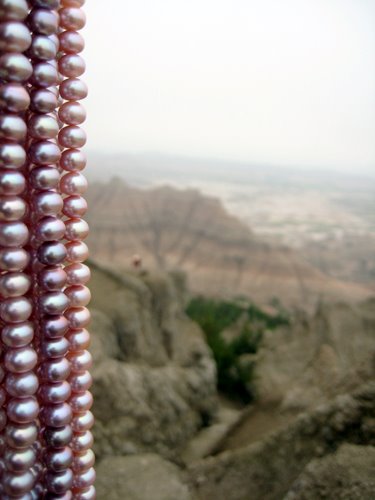 Bad Lands--Sarah out of Focus
This National park is in western South Dakota right before the Black Hills. Every time it rains the landscape changes as more of the mud erodes from the landscape. Sarah and John ventured here and there, making me very nervous for their safety, but they're both quite agile and used to climbing rough terrain.
You can see a very blurry Sarah in the above photo.
Bad Lands - Nice Pearls
Up for a fun adventure? Try hiking around or camping in the midst of this spooky yet beautiful place. Camping in allow in the interior. Just be sure to inform the local park rangers of your intentions so they know you're in there.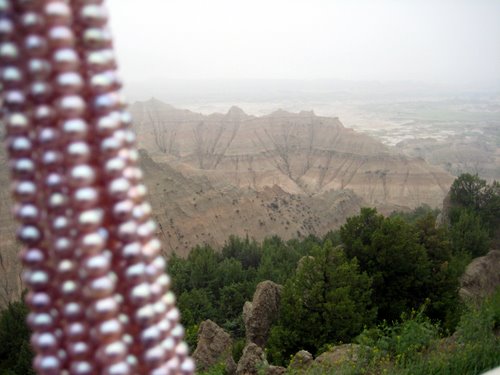 Bad Lands Good Pearls
You can see these beautiful landforms just off Highway 90 which runs east-west through South Dakota. We ventured off into the Bad Lands National Perk near dark and as we were leaving it became extremely foggy and started raining hard, which spoiled our plans to camp. It was so foggy that we could only see a couple of feet in front of the car and needed to drive about 35 miles per hour for about an hour. It was still off season, so no other traffic met us, thankfully, as the road was windy and hilly. It was a tense drive, but as what often happens during tense drives, we did a lot of laughing.
Badlands South Dakota
We made our way to Wall, S.D. for the night, which you've probably heard of too, because of the famous Wall Drug. The owners are advertising geniuses! They even have ads in Kenya and on London buses. I've seen their ad in Amsterdam.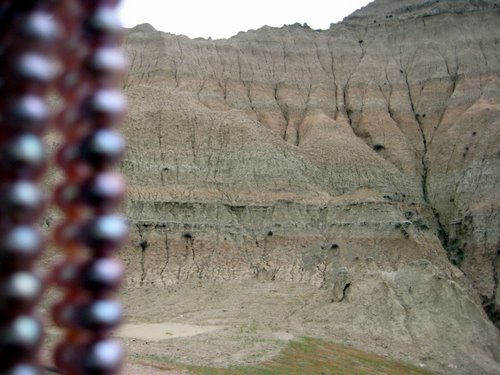 Badlands South Dakota
People all over the world and lots of military folks join in the fun and bring back Wall Drug's sign to post in remote places.
The drug store wasn't getting much business during the depression, so the wife of the owner suggested they put up signs saying, "Free Ice Water!" and things took off like a bullet. Their grandsons now run it.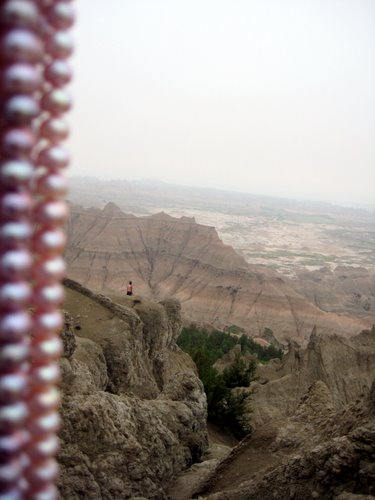 Pearls in the Bad Lands -- Sarah in Focus
In the morning we returned to the Bad Lands for a closer look. John, the driver then, was very patient (well, most of the time) with me as I took photos through an open window (letting in cold wind) as we drove.
Pearls at Bad Lands
Some of these pearl photos are focused on the pearls, some on the scenery. The colors were vivid and amazing. It's $15 a car to get into the National park, and worth every penny. You don't want to miss this spectacular topography.
Several Native American items are sold in a gift shop....very lovely place. I especially enjoyed seeing the porcupine quill jewelry. I should try that, I have some quills around here somewhere.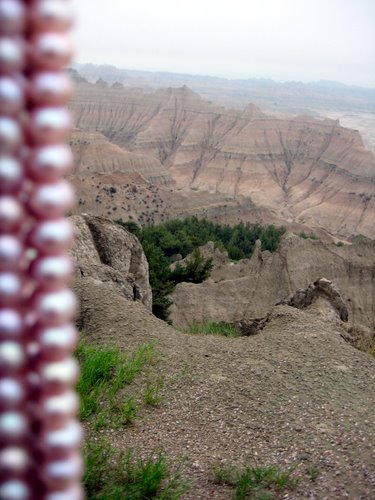 Pearls in the Badlands
We meet an adorable red haired family while we were climbing on the muddy heaps and later saw them at Mount Rushmore. Seeing them again made me feel sort of bonded, so I took of my 10mm white pearl earrings and gave them to the mom.
Pearls at Badlands
If you ever see me "somewhere in the world" be sure to say hi, who koows, maybe I'll give you my earrings too.
Go to main image page after Badlands.
Free Newsletter all about Pearls!
Search here.