Bahrain Shopping

Bahrain Shopping...Don't let this video fool you into thinking that Bahrain is a third world country....just blocks away are some of the finest, most modern buildings and malls on earth. Shopping near the Persian gulf...
Who needs calculators? Or bar codes? The human brain seems to be doing fine here.
Even though Manama, Bahrain is an ultra modern city which appears to be competing in a development contest and where land expansion projects boggle the human mind, it is most fun to wander in the old section of town behind the city gate, which, by the way, used to be the port of entry where pearl traders would barter for needed goods. Now the city gate is several kilo
meters inland due to reclaimed land extension. On these teeming backstreets lie the real Bahrain where merchants and shoppers haggle over purple silk and gold and every other store tries to sell foreigners a watch as they pass.
I was hungry and since I'm not a "foodie" and don't like spending money in restaurants....I sought out a pretty orange that would fill my tummy. Ah....yes, it was here and I had to discipline myself to only buy one orange. These lovely fruits and veggies made me wish I could cook up a storm!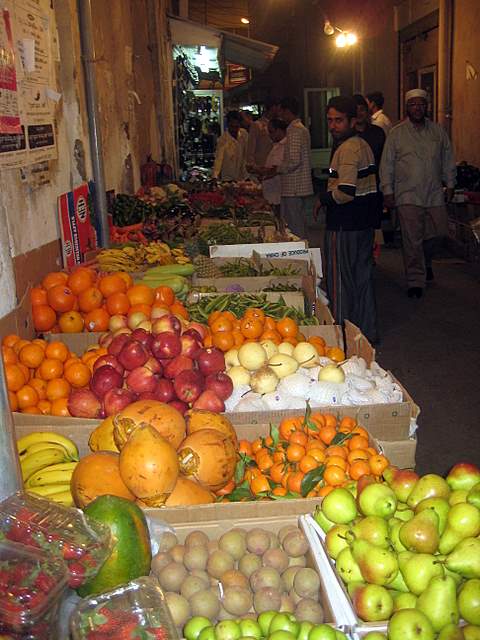 Shopping in Bahrain