Biggest Pearl in the World Uncovered: 'Mother of all pearls'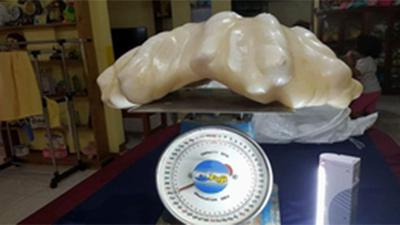 34 kg pearl
A massive 34kg pearl has been uncovered and could be the largest ever found in the world, measuring in at a staggering five times larger than any previous record.


An unassuming fisherman has kept the $100 million 'good luck charm' under his bed since finding the priceless item over a decade ago.
It's reported he found the pearl off the coast of Palawan Island in the Philippines and has since kept it inside his rundown wooden home.
According to various online reports a fire in his residence forced the fisherman to move house prompting him to turn the priceless piece over to a local tourism officer.
The prize pearl measures in at a jaw dropping 1ft in width and 2.2 feet in length making the world's former biggest pearl –The Pearl of Allah- look like a lightweight.
Tourism officer Aileen Amurao stated, "The fisherman threw the anchor down and it got stuck on a rock during a storm."
"He noticed that it was lodged on a shell and swam down to pull up the anchor, and also brought the shell with him. This was a decade ago and he kept it at home."
"He didn't know how much it was worth and kept it tucked away at home as a simple good luck charm."
"We were amazed when he brought it to us."
It is currently on exhibition at the Ripley's Believe It or Not! in New York.
Article source: https://au.news.yahoo.com/a/32420731/mother-of-all-pearls-biggest-pearl-in-the-world-uncovered-worth-100-million/#page1