Photos of Black Pearl Strands
Well, it is obvious that I took this photo of black pearl strands at the same time and place as my logo....yup, at one of my favorite places, our farm pond.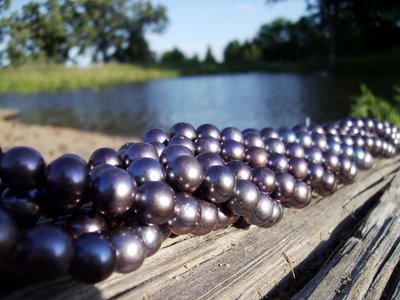 Anderwood Pond Black Jewels
I can't wait for it to warm up so I can resume my daily swimming routine. I love it!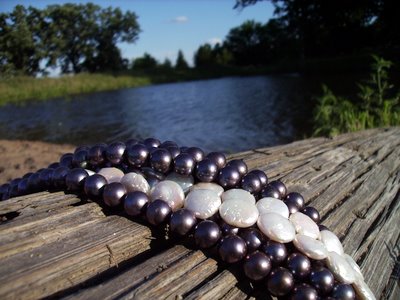 Black & White Pearls at Anderwood Pond
I never dreamed that I'd live on a farm with such a lovely place to swim. And just two days ago I planted some Weeping Willow trees along one side too....so why is that so special?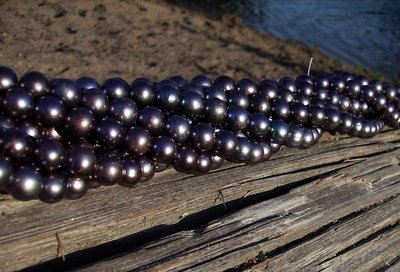 Pearls on Wood
Weeping Willow trees along side of our pond is literally a dream come true for me. You see, as a youngster in grade school when we could draw whatever we wanted, guess what I always drew? Yes...a pond, Weeping Willow trees and naturally a swan or two.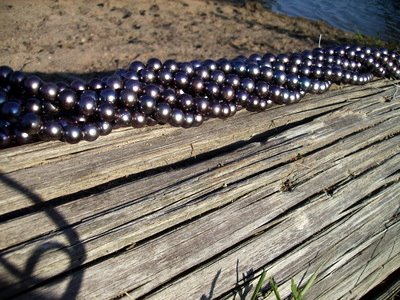 Black Jewels on Pole
So, while we don't have a swan, yet, we now will have the willows. They will also provide us with privacy on that side which is now exposed to traffic on the gravel road.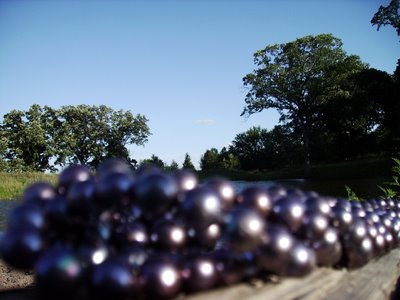 Black Jewels in Front of Trees
With all the rain this spring, our pond is filled to max and we've added three more grass carp to keep track of any weed grouth.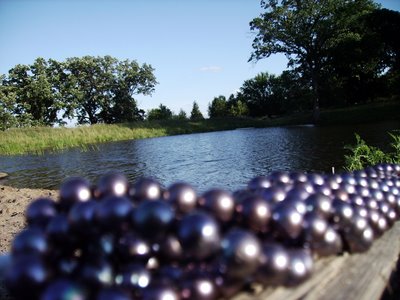 Black Jewels by Anderwood Pond
My husband, a pastor, even held a water baptism there one Sunday and then everyone jumped in for a great afternoon of swimming and jumping off the rope swing.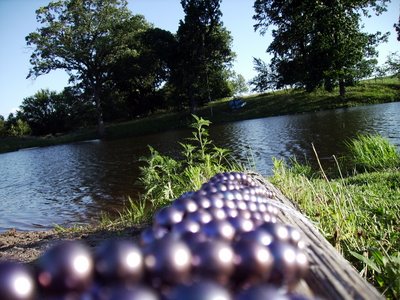 Black Gems by Anderwood Pond
Even though I don't consider myself the athletic type...I love to swim and it still seems like a dream that I can swim right on our own farm.
God often shows me places where I'm to travel to in a dream, so when I had a dream that I was making sand angels on a beach, I started wondering where I should go. Then one day, as I was sunning on our sandy beach by the pond, it hit me! God was showing me that I'd have a beach right here to enjoy!
Black Gems
This poor popular tree had to be cut down so we could install a satellite dish for our internet connection. I really hated to see it go, but it was too close to our house anyway.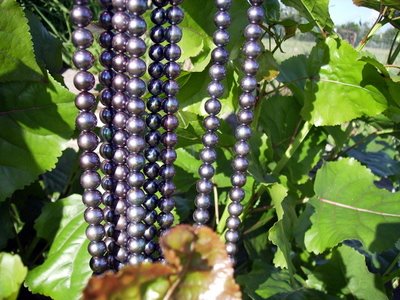 Black Pearls on Popular Leaves
These brilliant leaves were its triumphant attempt at returning the next year. Aren't they gorgeous? I've never seen such vibrant green colors.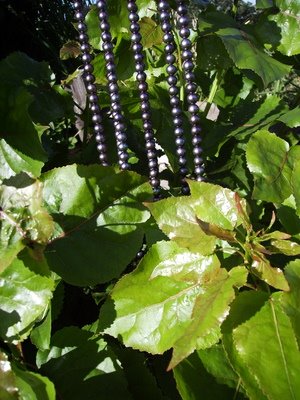 Black Pearls by Popular Leaves
They seemed the perfect backdrop for the black pearl strands.
Free Newsletter all about Pearls!
Search here.
Photos and text © by KariPearls.com