Bracelet of Natural Pearl
Wear the "real thing"...a bracelet of natural pearl made from rare natural pearls found in the Persian Gulf, known for their brilliant luster.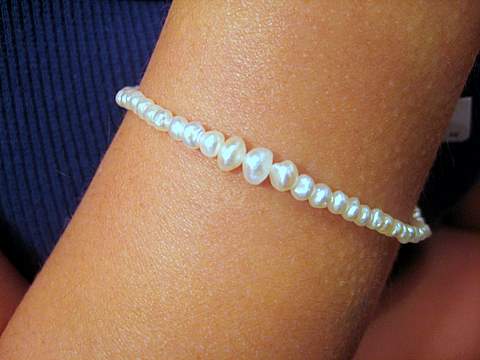 Natural Persian Gulf Pearl Bracelet
This wonderful natural pearl bracelet is a great companion to a natural pearl necklace which also is made from natural pearls from the Persian Gulf.
Graduated Natural Pearl Bracelet
Type of Pearls: Natural Persian Gulf
Number of Pearls: 80
Total Carat Weight: 12.17 carats (2.43 grams)
Color: White to light cream
Shape: Semi-baroque and baroque
Dimensions: Largest pearl measures approximately 5.1 X 3.8 mm
Clasp: 18K Yellow Gold
Certificate of Authenticity
Price: SOLD!

See more natural pearl jewelry here after bracelet of natural pearl.