Buckingham Palace Tour

I didn't even know Buckingham Palace tours existed, so was thrilled to discover this. Just what lurked behind those stark walls? I've often wondered what it must look like inside the palace of Buckingham.

Queen Elizabeth Dress for the Occasion Photo by Kari
During my last visit to London I saw posters advertising a display of Queen Elizabeth's dresses which also included a Buckingham Palace tour...so I put it on my to-do list.
Oh, another thing...just what was beyond the spikes on top of brick walls around the back gardens?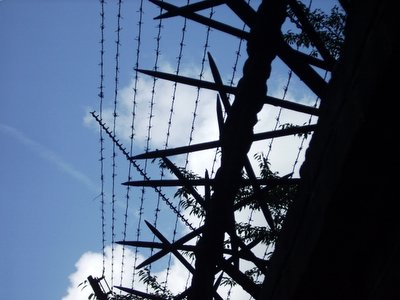 Barbed Spikes around Buckingham Palace Photo by Kari


Were there REALLY gardens back there? What would they look like...fairy tale landscaping with constant tea parties going on? Ladies in frilly white frocks with parasols gossiping while well dressed children frollicked nearby?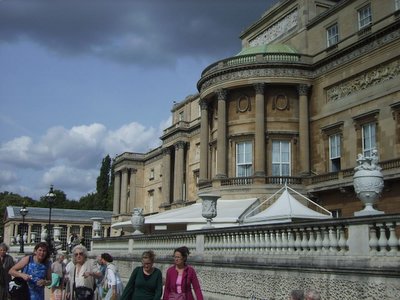 Buckingham Palace Tours Photo by Kari


Well, guess what? Visiting Buckingham Palace included not just the palace. As we left the palace from behind, the path led to a Buckingham Palace gift shop in the garden and then exited along the side of the 35 acre garden (an area almost as large as our small farm here in Iowa). Photos were allowed outside the palace...yipee!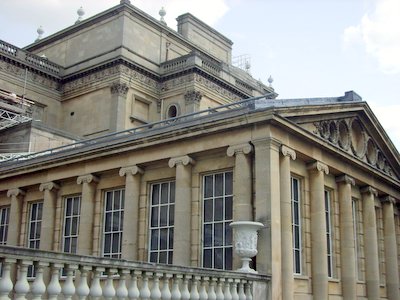 Buckingham Palace Backside Photo by Kari


Buckingham Palace is a large square of buildings. One is for formal, impress the dignitaries type stuff, one is private apartments for the family, one is financial offices, and I forget what the fourth section relates too. In addition to what one sees above ground there are extensive rooms underground for staff and kitchens.

Buckingham Palace Photo from Back Photo by Kari


We saw the room where the royal children of Queen Elizabeth II and Prince Philip were baptized with water from the Jordan River, a reception room with a secret passageway from behind a mirror which makes for a quicker entry for the Queen from her apartments, portrait halls, massive and expensive staircases, gildings, gold, tapestries, silks, colors, priceless antiques, crystal..oh, worry not..Buckingham Palace didn't disappoint.

Buckingham Palace Light Photo by Kari
As we exited after the Buckingham Palace tour, we were treated to a viewing of the new portrait of Queen Elizabeth. In this painting the Queen is wearing a aqua blue green dress and the impressionist style distorts her lovely grandmotherly face. My personal opinion is that it did not compliment the queen. I think a more pleasant slant could have been acquired. The queen herself said, "It is a warm and welcoming painting." Or something to that effect. To me that statement was reserved. If she loved it, she would have been more enthusiastic.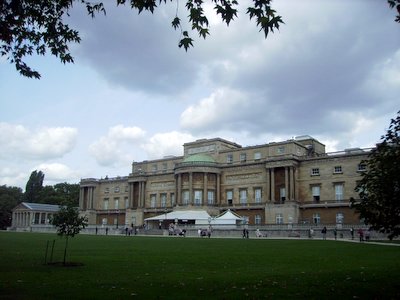 Clouds over Buckingham Palace Photo by Kari
At least it wasn't painted to give the impression she was still 20 something, like the portraits of Queen Elizabeth I, who apparently had all portraits of herself in her older age destroyed.
It made me long for the days of detailed photo-like portraits that took extreme talent to create.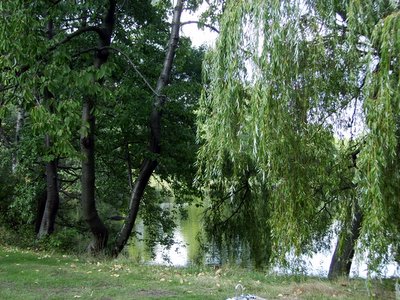 Buckingham Palace Garden Photo by Kari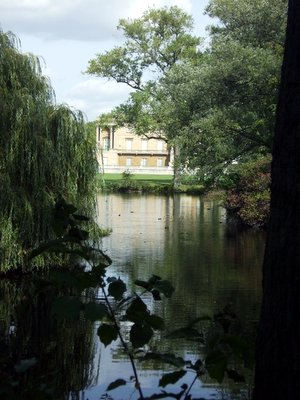 View of Buckingham Palace Lake Photo by Kari
One flaw, however, with the Buckingham Palace tours, was the navigation route through the room displaying the Queen Elizabeth's dresses. It was a mess. No clear path, bottlenecks, waits, confusion. I hope they get that figured out for the sake of future Buckingham Palace crowds. I finally had to leave and not see everything.

Buckingham Palace Lake Photo by Kari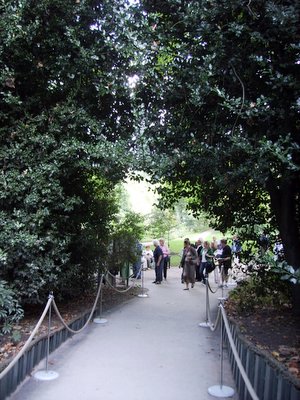 Buckingham Palace Garden Path Photo by Kari
One of my favorite things about seeing the Queen's Clothes at Buckingham Palace were the comments of her loyal royalists. They were so gentle..."Oh, that's when she was pretty." Those comments were heard near her teeny tiny waist black velvet dress from the 40's.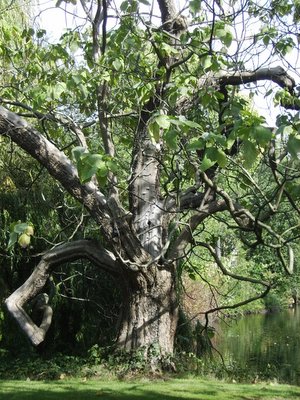 Buckingham Palace Garden Tree Photo by Kari
I was impressed with the informality of the gardens. I'd expected a flashback of Versailles I guess. These gardens were more like a large, sprawling, homey back yard with a small lake. I imagined myself swimming in that lake. Grass was groomed, but the lovely place wasn't landscaped to death. No tea parties either.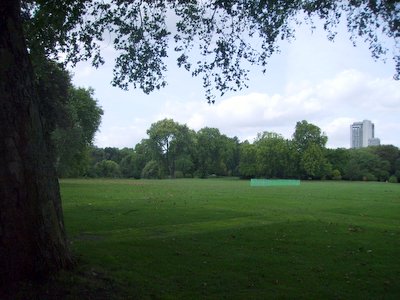 Buckingham Palace Lawn Photo by Kari
Of course, there was the "Midwest America Connection." I just knew there was some sort of Iowa/Illinois influence at Buckingham Palace. Yes, there sat a beautiful John Deere lawn tractor in the garden.

John Deere Tractor in Buckingham Palace Garden Photo by Kari
No Buckingham Palace tour is complete without a photo with a Police Bobby...and here we are...chums.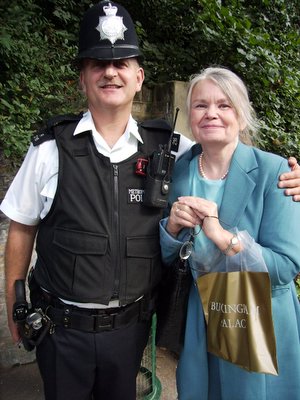 Buckingham Police and Kari
The Buckingham Palace tickets cost about $25...ouch...but well worth the solving of this mystery.

Buckingham Palace Back Garden Gate Photo by Kari
Mystery solved...what does Buckingham Palace look like from the inside out, backside, and garden side? Now I know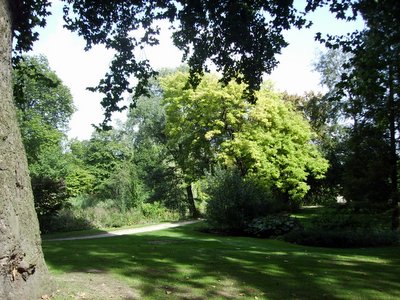 Buckingham Palace Garden Shade Tree Photo by Kari
Go to main Kari Anderson page after Buckingham Palace Tours.