Burmese Gems
Jewelers Urge Ban
Burmese gems, which would include Burmese pearls are on the "hot list" for a group of US jewelers.


I spotted this article this morning and thought it of interest for readers of my website, so am including a few paragraphs with a link to complete article.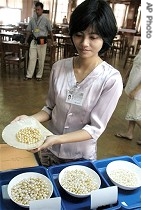 Burma Pearls AP Photo
By Kate Woodsome
Hong Kong
11 October 2007
A group of jewelers in the United States is calling on Congress to change legislation so that gems mined in Burma cannot be imported to the U.S. from a third country. Human rights advocates say that could help cut off funds to Burma's military rulers. But, industry experts say it would be very hard to enforce. Kate Woodsome reports from VOA's Asia News Center in Hong Kong.
Employee of Myanmar Gems displays pearls on sale in photo at left.
The Jewelers of America sent a letter to U.S. congressional leaders this week asking them to close a legal loophole that allows Burmese gems into the country, despite sanctions against the military-ruled government.
The United States banned direct imports from Burma in 2003. But a year later, U.S. Customs and Border Protection issued a ruling allowing gems mined in Burma to be transported to the U.S. - as long as they are cut or polished in another country.
Basil Fernando of the Asian Human Rights Commission in Hong Kong says if the law is amended and enforced, it could slow the flow of money to Burma's military leaders...........
.............Jewelers of America is also calling on its 11,000 member retailers, including giants Cartier and Tiffany, to ensure gemstones are properly sourced.
It took the initiative after the Burmese military killed several people and arrested thousands who joined pro-democracy demonstrations in Rangoon and other Burmese cities last month.
Read about other countries where pearls are found.