Clients Urged to Buy Natural Pearls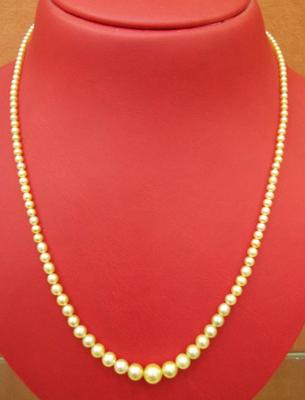 Natural Persian Gulf Pearl Necklace
David Warren, international director of jewellery at Christie's, has been urging his clients to buy natural pearls for decades.

Natural pearls are seeing a dramatic turn around at famous auction houses. In the 90's large cultured pearls were seeing the best prices, now that has reversed with natural pearls once again being the darling of jewelry investments.

Middle Easterners are wanting to own their national treasures and are buying back natural pearls that originate from their own backyard (Persian Gulf). These purchases are driving prices up to where they deserve to be.

All forms of natural pearls, from USA freshwaters to Asian melos are increasing in value and are recommended investments.

Cultured pearls increase in quantity while natural pearls remain few and rare. Rarity is worthy of investment.

That's the reason I made the decision several years ago to focus on natural pearls. There is a limited supply of natural pearls and there always will be. It's the lucky few who will seek out and own natural pearls.
Join in and write your own page! It's easy to do. How? Simply click here to return to Pearl News.