Conch Season in Cayman Islands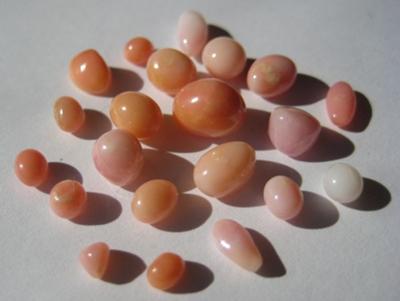 Conch Pearls
Conch Season in Cayman Islands


Conch season opened 31 October 2010 and will run through 1 March. Five per person or 10 per boat is the limit, though poachers have little respect for this law. The poachers' goal is to load up on the tasty gastropod in hopes to make a few dollars for cigarettes or rum. This illegal scheme is cause for concern and compared to days gone by the conch population has become sparse in Cayman waters. Conch is valued by restaurants for their edible white meat which can be eaten raw or used as an ingredient in fritters, chowders, and burgers.
What most conch pilfers don't realize, just one conch could greatly improve their financial status. One conch in 10,000 that is! Such are the odds of finding a conch pearl which is actually a calcareous concretion, similar to a kidney stone in humans. Less than one in 10 conch pearls found will be considered gem quality.
Conch pearls are generally about 3mm in diameter with a baroque or oval shape. They can range in colour from pale white to golden yellow or coffee brown. Pink conch pearls are the most sought after. Conch pearls are measured in carats like diamonds and other precious gems.
More about conch season in Cayman Islands
Buy conch pearls here.