Cowdray Pearls Rare Natural Grey Pearl Necklace up for Auction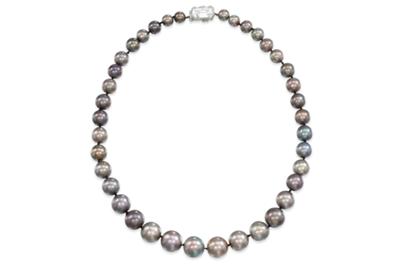 The Cowdray Pearls, a rare natural pearl necklace. Estimate £280,000-350,000. Photo: Christie's Images Ltd 2012
Cowdray Pearls Rare Natural Grey Pearl Necklace up for Auction


LONDON.- Christie's London sale of Important Jewels on Wednesday 13 June 2012 comprises 368 lots, including stunning royal and aristocratic jewels formerly from both The Collection of Her Imperial Highness Princess Soraya Esfandiary Bakhtiary and The Property of Beatrice Countess of Granard OBE, as well as from The Collection of The Late Countess of Dudley which is led by a superb Art Deco diamond tiara by Cartier (estimate: £100,000-150,000). Spanning four centuries, the sale presents a strong array of rare historic rings, diamonds and
pearls showcasing The Cowdray Pearls (estimate: £280,000-350,000)
, with estimates ranging from £2,000 to £350,000. The roll call of signed jewels by the leading houses and designers includes: Boucheron, Cartier and Chaumet to Chopard, Graff and Van Cleef & Arpels. ROYAL, ARISTOCRATIC AND HISTORIC JEWELS
The Cowdray Pearls, a rare natural pearl necklace, composed of a single row of thirty-eight graduated natural grey pearls, lead the sale (estimate: £280,000-350,000)
. From the collection of the late Viscountess Cowdray, Lady Pearson (1860-1932), these rare and beautiful coloured pearls are a testament to their owner's discerning taste as a distinguished connoisseur and collector. One of 17 jewels offered from the Collection of The Late Countess of Dudley, also known as the beautiful, vivacious and talented actress and dancer Maureen Swanson, is the superb Art Deco Cartier tiara; a star lot in the sale (estimate: £100,000-150,000). It is composed of five graduated shield shaped clip brooches, each resembling the Pylon, the tapering monumental towers of ancient Egypt whose bold form inspired so much 1930s design. Together, mounted atop the simple diamond line frame, these clips are transformed into a modern soaring geometric skyline, their design recalling both the architectural innovations of the era together with its inimitable style. In bringing together these motifs this tiara is an exceptional and truly evocative example of the Art Deco period and one of only a few examples of its kind; providing collectors and institutions with a remarkable opportunity. Leading the small group of jewels formerly from the collection of HIH Princess Soraya Esfandiary Bakhtiary (lots 289-293) is a 12.15 carat diamond circular single-stone ring (estimate: £70,000-100,000). Another ring with notable provenance is an Edwardian sapphire and diamond ring, circa 1905, which was formerly in the collection of Beatrice Countess of Granard OBE (estimate: £30,000-40,000) Born Beatrice Mills, the Countess was a daughter of the great American financier and banker Ogden Mills. A famous hostess and race horse owner and breeder, in 1909 she married the 8th Earl of Granard, who was Master of the Horse to both Edward VII and George V. Since 1766, Christie's has been synonymous with auctions of Royal and aristocratic collections. From the sale of Madame du Barry's jewels in 1795; the Russian Crown Jewels in 1927, and the Private Collection of HRH The Princess Margaret in 2006, to The Portland Pearls which were sold more recently in 2010, these events have created worldwide interest and are remembered as legendary moments in auction history. Smaller and very accessible historic lots include a striking array of rings spanning medieval times to the 18th century, which are offered from The Property of a Lady (estimates range from £500 up to £2,500).
Auction Update:

The highlight of the auction was the Cowdray Pearls necklace, achieving more than $3.35 million and setting a world record price at auction for a natural grey pearl necklace.

"The sale presented a strong array of natural pearl jewels, led by the exceptional Cowdray Pearl necklace which set a world record price for natural grey pearls at auction," Keith Penton, head of London jewelry department, said in a statement.
Source for Cowdray Pearls Rare Natural Grey Pearl Necklace up for Auction