Dancing House in Prague Photos
Photo series of the dancing house by Frank Gehry in Prague by the Vlatava River.
This is my second time seeing this funny house in Prague. I was a little more prepared this time to take several photos, but "little" and "time" seem to be the two words that describe my Prague visits.
I really must get better at planning more time in this amazing city.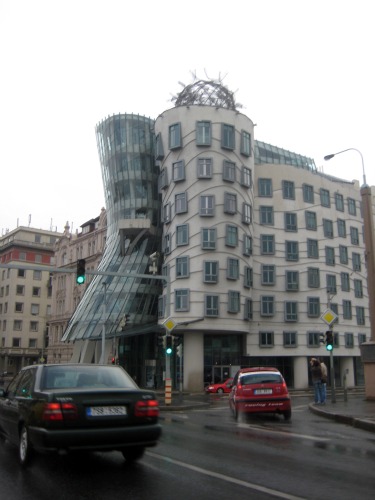 Dancing Building
For varieties sake, I've mixed up this photo series. Just like the dancing house itself is unexpected, I'll let the next photo be unexpected and not in a boring series.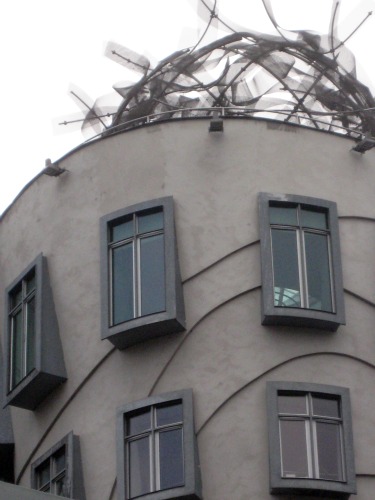 Dancing House
While I'm on my bandbox, I'll add that what I do not like about photo albums is their boringness. No wonder scrapbooking has taken off so quickly. I'm not the only one bored with photo albums, except that scrap booking, in my opinion doesn't really solve the problem either, just makes photo viewing a little more interesting is all.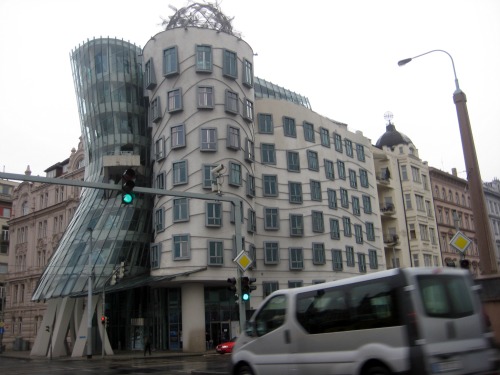 Dancing House
If you really want fun in viewing family photos mix them all up in a big giant vintage potato chip tin...yup, all 30 years worth and you can't imagine the laughs there will be when a group gets together to look at family photos. You never know who or what era will turn up next...so much fun!
Dancing Building
Like a big tin of mixed up family photos, here sits the Frank Gehry designed house next to the very traditional sturdy buildings of main Prague. But, oh, dear, I can't help wonder what was sacrificed for this modern refreshment? Yes, it's true, I'm one of those "old building nuts" who can't bear to see an ancient beauty hit the dust, no matter how decrepit.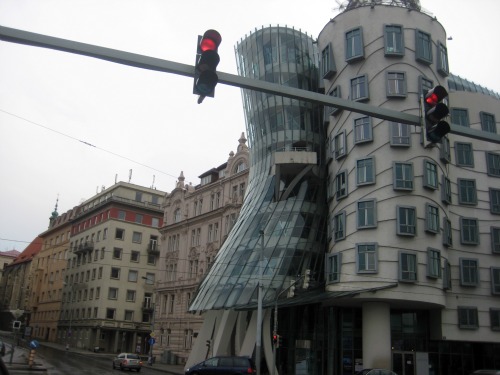 Dancing House
Okay, I feel a little better now, the dancing building was built on a vacant riverfront plot (where the previous building had been destroyed during the Bombing of Prague in 1945).
The building was designed in 1992 and completed in 1996. The very non-traditional design was controversial at the time.
Czech president Václav Havel, who lived for decades next to the site, had supported it, hoping that the building would become a center of cultural activity.
Originally named Fred and Ginger (after Fred Astaire and Ginger Rogers - the house resembles a pair of dancers) the house stands out among the Baroque, Gothic and Art Nouveau buildings for which Prague is famous. Others have nicknamed it "Drunk House".
On the roof is a French restaurant with views of the city. The building's other tenants include several multinational firms.
As you can see, it is right next to the Vltava River where one can rent small row boats and take a row. Last time I was in Prague with Sarah, we and our friends did just that. It proved a laughable experience with all of our amateurish rowing of two rowboats which often nearly collided. We were careful to turn around before going near the falls.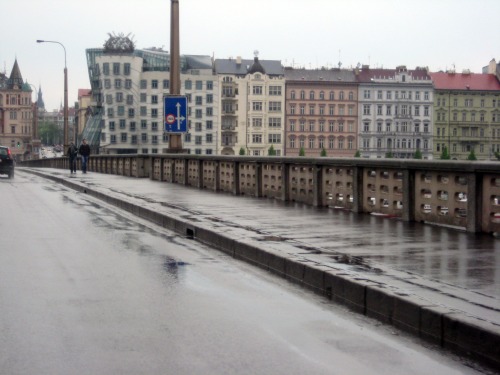 Dancing Building
Ah, friends and laughter, a combination of the two make for wonderful travel adventure. Unfortunately, one of those friends, Michael, is no longer with us on this earth. He is sorely missed.
Michael's children have made this
colorful Czech Republic children's art
.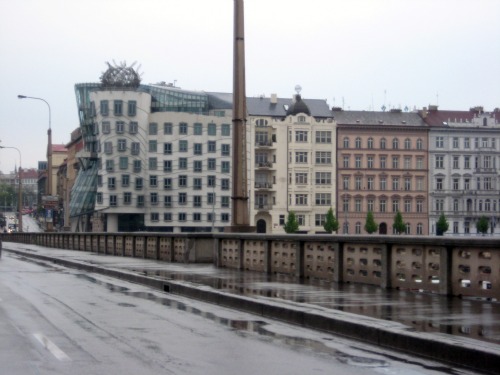 Dancing Building
When visiting Prague, allow time to stroll the Charles Bridge, take in an opera, visit castles and museums and don't forget the antique shops. Prague has antique shops like few other places.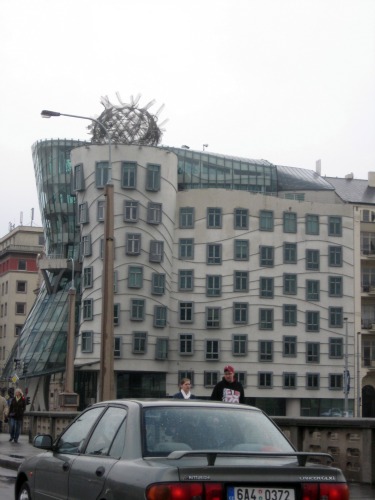 Dancing House
I was smitten with the largest and loveliest cameo I've ever seen in one antique shop.
You can eat on a floating barge, take in the local festival, or "watch the clock"...no ordinary clock this one. When the hour turns so do lots of other things.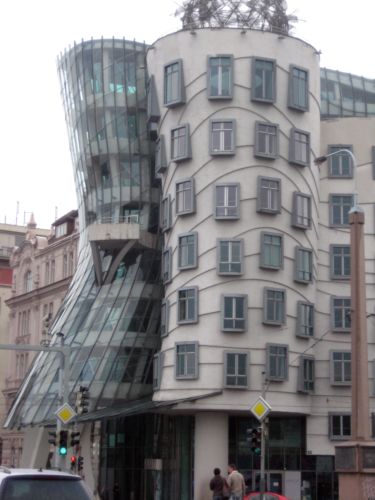 Dancing Building
I also "feel in love" with our Carrie, our friend's, apartment. I can't imagine living in a spectacular place like that and being so close to history oozing out of the pores of every nearby street.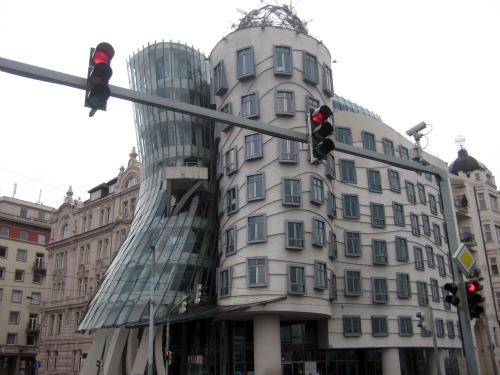 Dancing Building
Take time too for exploring a few nearby villages. During the communist days and even today, these villages were havens for Prague residents. The rural cottages had us oohhing and aahhing at every turn.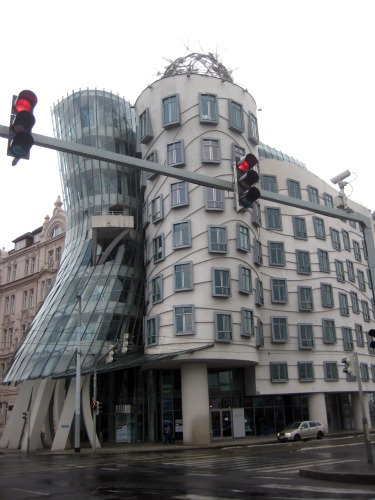 Dancing Building
Subways, though few, are cheap and make for ease in reaching the airport. That is, if you can pull yourself away from enchanting Prague where one could get caught up for hours just looking at windows and doors.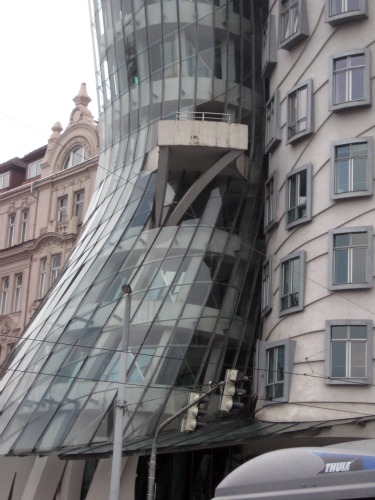 Dancing House