Dodge Pearls Three Strand Natural Pearl Necklace Sold for $600,000
The Dodge Pearls, which are linked to Catherine the Great, were sold at Bonham's Auction House in New York City for $600,000.
At Bonhams' prestigious salerooms on New York City's Madison Avenue, a magnificent three-strand natural pearl necklace fetched $600,000. Comprising 224 pearls and two Cartier diamond clasps, the pearl necklace was owned by descendants of the founder of the US motoring company, Dodge Automobiles.
In 1920, Michigan-born Horace E. Dodge bought the pearls from The House of Cartier for his wife Anna Thomson Dodge in the belief that they had once belonged to Catherine the Great, Empress of Russia.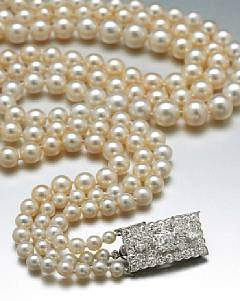 Dodge Pearls (Natural Pearls)
The Michigan-born Horace Dodge was a self-made billionaire. A gifted mechanic, he moved, in 1886, with his brother John to Detroit and later founded Dodge Automobiles - a brand name that is recognized throughout the world today. For a time the Dodge brothers built engines for Henry Ford in a deal that included a share position in the new Ford Motor Company. When the brothers decided to sell their shares to Henry Ford in 1919, each receiving US$12.5 million from the sale, Horace promised to buy his wife Anna any "earthly thing she wanted". Anna - a Scottish immigrant, born in Dundee - said that she wanted pearls.
Horace agreed and purchased a pearl necklace from Cartier. Anna is thought to have worn the necklace just twice in her lifetime and one of those occasions was for her daughter Delphine's wedding to H R Cromwell, the son of a prominent Philadelphia banker. Anna is said to have dazzled some 3000 guests and the Detroit Symphony Orchestra, who played throughout the reception.
Designed with versatility in mind, the necklace was originally made up of five strands of pearls, which allowed its owner to change the combination and style of the jewelery. Anna gave these Dodge pearls to her daughter Delphine, but on her untimely death at the age of 44, the pearls reverted back to Anna. In 1968, Delphine's daughter Yvonne acquired the pearls from Anna and subsequently divided the strands amongst her friends and heirs. Three of these family members reunited their individual natural pearl strands as one Dodge pearls necklace for the Bonhams' auction.
Ever since 1920, when Horace Dodge first bought the Dodge pearls from Cartier there has been much speculation over the necklace's early provenance. A Cartier sales invoice to Horace E. Dodge, Esq, dated 24 May 1920, states that the "five row pearl necklace, consisting of three hundred and eighty-nine (389) pearls weighing forty-three hundred and five (4305) grains" was accompanied by an "enamel clasp representing Catherine, Empress of Russia" and "two (2) diamond alternate clasps". Many newspaper articles written in the early 1920s and since then, including those from The New York Times and Detroit Times, have suggested that the pearls once belonged to Catherine the Great and furthermore, the heirs of Anna Thomson Dodge maintain that Horace bought the pearls from Cartier on that basis.
"I fear the truth will always be shrouded in mystery," said Bonhams' International Director of Jewelery Matthew Girling.
Whilst proof of a direct connection between the pearls and the Empress currently remains inconclusive - despite research by Bonhams to uncover the necklace's early provenance - it is a fact that in the early 1900s jewelery from Russian aristocrats found its way onto the open market. Russian émigrés, fleeing the Revolution, who had lost their land and fortune and whose funds were quickly exhausted in foreign countries, had no other means to subsist than by selling the family jewels their wives were able to carry with them in their flight. Russian royal jewels found new owners in the wives of wealthy industrialists - many of them American.
Throughout history pearls have always been considered precious. The Romans invaded Britain for them and hundreds of years later Christopher Columbus sailed to the New World to bring the gems back for the Spanish Treasury. They have been found in Egyptian tombs and Chinese burial grounds and they've been loved and worn by the Maharajahs of India, Catherine the Great, Napoleon, and Queen Victoria, and Coco Chanel.
"Pearls are never out of fashion. Current famous women wearing them include Sarah Jessica Parker, Angelina Jolie, Gwyneth Paltrow, Keira Knightley and Katherine Heigl," adds Bonhams' Matthew Girling.
Read about more famous pearls after the Dodge Pearls.