Dress of Pearls and Needlepoint - Paris Fashion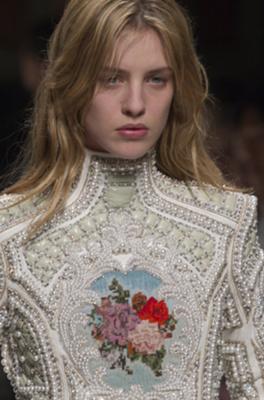 Photo: Associated Press Balmain's Olivier Rousteing used dazzling embroideries of everything from crystals to pearls in his over-the-top pieces.
Dress of Pearls and Needlepoint - Paris Fashion


Why do so many collections feature jewel-laden, fur-bearing, gold-gilded, paparazzi-rousing clothes?
Answer: It's the economy, stupid. The economy in China, Brazil, Russia, Dubai and other outposts of abundance, where women actually want to look rich. They've got it, and they want to flaunt it.
Serving these customers is, of course, essential to the future of five-figure designer clothes. And it becomes even more pertinent as more and more designers build stores in these enclaves of wealth and status.
Jewels: Real and faux jewels were sprinkled everywhere, even on heels of shoes at Chanel and embroidered in large broochlike shapes on dresses by Alber Elbaz for Lanvin. Balmain's Olivier Rousteing gets the gilding-the-lily award for his over-the-top, neck-to-hem embroideries of everything from crystals to pearls. Jeweled coats sparkled in many collections.
Along with the jeweled clothes come the jewel shades of emerald, ruby, amethyst, sapphire and jet. (Black is still the new black.)
Leather: In a season remarkable for its leathers, both as a total garment and as a component partner with fur or fabric, the most artful use is at Rick Owens, whose short leather jackets with shapely lapels are truly works of art. He says he was able to attain this new look because the leathers are heavier than those he's used in the past. In other collections, leather's many manifestations included colored leathers, especially dark green, bordeaux and navy. Glossy leathers and new patent treatments also look directional.
Source for dress of pearls and needlepoint - Paris Fashion