Exceptional Natural Basra Pearl Strand Necklace 54 carats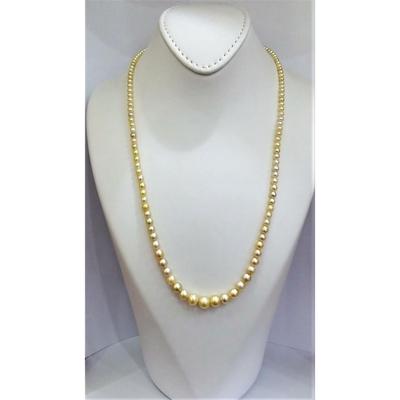 Exceptional Natural Basra Pearl Strand Necklace 54 carats
Type of pearl: Natural Pearls


Weight: 10.97 gm / 54.85 carats


Shapes: Near round, Near Button & Near Oval


Size: 6.94 to 2.06 mm


Color: Cream, Brownish-Yellow & Golden


Location of Origin: Bahrain


Metal: 18k gold


Length: 18" inches


Unique Features: Very nicely graduated necklace


Certificate: DANAT 120295


Price: $15,220

Contact Kari to purchase this necklace.

Necklace appears longer in photo. Please measure carefully to know where the exact length will fall on your neck. Also please note the size of pearls and check the sizes out on your own with a tape measure.






Return to Listed - Persian Gulf Pearls & Jewelry.