Exceptional Natural Pearl Earrings up for Auction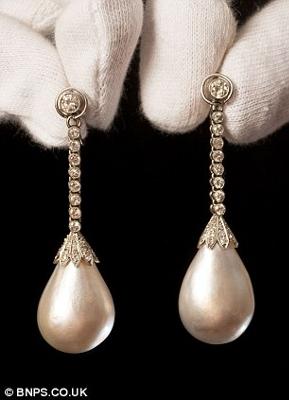 The stunning jewels were a controversial gift from the King of Romania
Exceptional Natural Pearl Earrings up for Auction


This pair of pearl earrings were considered too garish for their owner so she locked them in a drawer and they sat there for 35 years.
But now the true story behind the pearl earrings has been revealed and they are now set to sell at auction for more than £500,000.
The jewels had been a gift from an exiled Romanian King to his mistress, who left them to a British woman friend in Wiltshire upon her death in 1977.
The unnamed woman had no idea of their worth so she discarded them in the back of a desk drawer for years as the oversized jewels were not to her taste.
They were later inherited by her nephew and his wife but they never touched them, until by chance they mentioned the jewels to auctioneers.
The stunned experts described the long earrings 'as the finest in existence' and said it was a once in a life-time discovery.
More about Exceptional Natural Pearl Earrings up for Auction