Fascinating Faceted Pearls
These faceted pearls were recently up for auction at a Bonham & Butterfields auction in Los Angeles, California.
While the facets appear to be convex or "coming out at you", they really are flat surfaces on the pearl.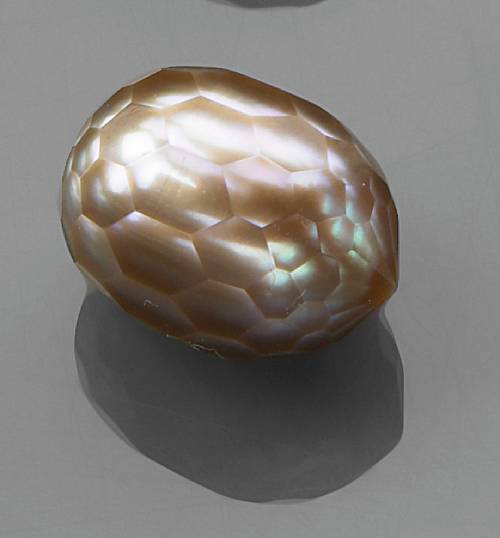 Faceted Pink Pearl
Natural Color Lilac-pink Cultured Pearl
Faceted by Robin Coon, G.G.
San Diego, California
From the Ikecho oyster found in the freshwaters of Japan, and in this case China, known as Hyriopsis schlegeli,this natural color lilac-pink is a tissue-nucleated cultured pearl of drop-shape form. It has been expertly faceted as a briolette and is undrilled, weighing approximately 8.0 carats and measuring 12.5 x 9.5mm.
Faceted Grey Pearl
Faceted Natural Color Cultured Pearl
Tahiti
Faceted by Robin Coon, G.G.
San Diego, California
An attractive natural color cultured pearl of nearly spherical form, faceted on its entire surface, undrilled, weighing approximately 12.5 carats and measuring 10.5 x 10.5mm.
Photos and text used with permission from Claudia Florins, director of Bonhams & Butterfields.
Three Carved Pearls
Read about more types of pearls after faceted pearls here.
Search here.
Free "Karipearls Ezine"