Jewelry Box Full of Faux Jewelry Pearl?
Faux jewelry pearl...wear it, treasure it, preserve its memories, pass it one to loved ones...there's more to it than meets the eye.
Why Faux Pearls?
Real cultured pearls (yes, cultured pearls are real pearls) are so affordable these days that nobody needs to buy faux pearls. But only a few years ago, real pearls were out of most people's financial reach, so ladies, even first ladies (did you know that Barbara Bush's pearls are large faux pearls?) took to wearing faux pearls.
Look in your jewelry box. Chances are those heirloom pearls handed down to you from your grandmother are man made pearls. Or that first pearl necklace you received as a young girl? They might be artificial pearls. But don't despair. They're still beautiful, fun to wear and worth cherishing.
My Mother's Faux Pearl Jewelry
Just gaze at my own mother's stash of faux jewelry pearl...it's quite a treasure trove! My mother has always loved jewelry and has tons of it all organized into types and colors. Looking through it with her is so much fun, because she remembers who each piece came from and for which occasion. Memories come flooding back and I learn so much about her and her connection with family and friends.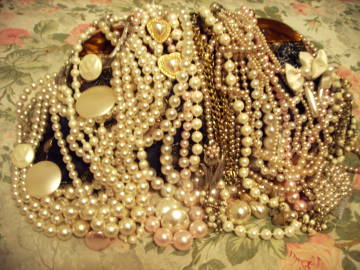 My Mom's Faux Pearls
My mother is very sentimental and wouldn't dream of parting with any jewelry given to her.
Jewelry Prompts Memories
You might want to spend some time going through your mother's or grandmother's jewelry with them. You'll be amazed at how these items have stories and sentiment attached to them. Most women consider their jewelry to be very personal, not just something to wear, but endearing objects intertwined with memories of love and appreciation. Because of this jewelry most often brings back good remembrances rather than painful memories.
Looking through jewelry boxes with loved ones can be a very positive way to spend time with them.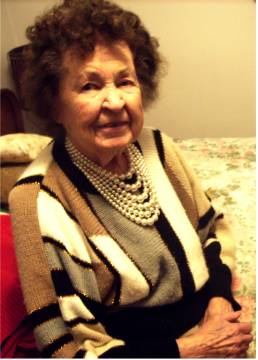 Adora, My Dear Sweet Mother in Faux Pearls
A cheap faux pearl necklace can have masses of memories...where or who it came from, when it was worn, what dresses it was worn with, or what occasions it was worn. Jewelry naturally opens up a fountain of fond remembrances.
Try looking through jewelry with your mother some day and tell me some of your stories.


Mom's Faux Mabe Pearl Earrings
Stories Increase Jewelry's Worth
It's a good idea to jot down some of the recollections. Did you know that a story or photo that accompanies an antique item increases its value? When the provenance (place or souce of origin) of an old item is known or documented, the value of that item can often double. So don't take lightly these quietly recalled memories, they may be worth more than mere sentiment.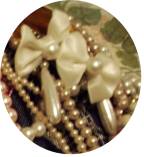 Mom's Faux Drop Pearl Earrings
For example, recently I found a natural pearl necklace at an antique store close to the Louvre Museum in Paris. It was a lovely, simple strand of natural pearls, BUT, there was no provenance or story to accompany it. Where did it come from? Who owned it? Where were the pearls from? How old was it? So many questions and no answers. If there were answers to even some of these questions they could have tipped the scales for me over to buying it.
So...knowing ANYTHING about a particular piece of jewelry may make the difference whether or not you can sell it someday. That is IF you could ever bring yourself to sell a treasured piece of jewelry.
My Sister's Faux Pearls
Most jewelry collectors have a vast assortment of faux jewelry pearl. Diane, my sister also has quite a cache of man made pearls....see how gorgeous they are!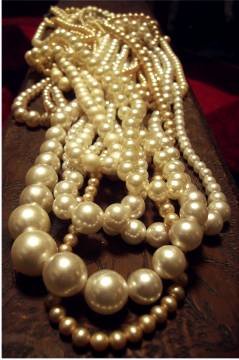 My Sister, Diane's Faux Pearls
Several items of jewelry just couldn't have been created without faux pearls. Simply because the price of real pearls only a few years ago would have been preventive.
Here are some of my sister Diane's faux jewelry pearl brooches. They're lovely and add so much making any outfit "you".


Diane's Faux Pearl Brooches
Diane has an interesting way to store her jewelry. Instead of a large fancy jewelry chest, she uses unique wooden boxes...antique, vintage or just unique. That way she can keep them all organized into separate categories. Here she is with some of her treasure trove.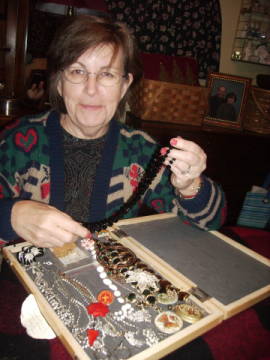 Diane with Wooden Jewelry Box
Faux pearl jewelry can often be difficult to distinguish from the real thing. There are some very good copies out there. On this page are some ways you can use to tell the difference between real and faux jewelry pearl.
Faux jewelry pearl can be as intricate as real pearl jewelry, as this fancy pink pearl necklace with attached brooch pendant belonging to Diane.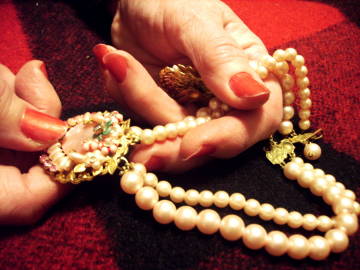 Diane's Fancy Faux Jewelry Pearl
So now you know where I got my interest in jewelry! Both my mother and sister are far better collectors than I am, however.
Even Queen Elizabeth I, the Pearl Queen, herself, ordered faux jewelry pearl made for herself when the supply of natural pearls didn't satisfy her lust for pearl decorated clothing and necklaces. Now that's woman who understood power. Have you discovered "Pearl Power" yet?
As one of my customers says: "You can tell a man by the shoes he wears." "You can tell a woman by the pearls she wears."
Go to main How Faux Pearls Are Made page after Faux Jewelry Pearl page.
Photos and Text © by www.karipearls.com