Gulf Pearls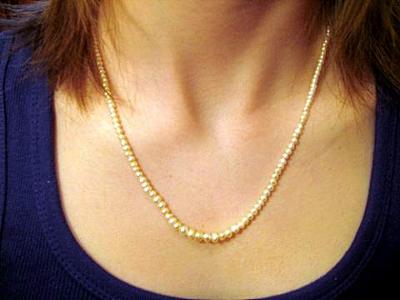 Natural Persian Gulf Pearl Necklace
Gulf Pearls


Interest in Gulf pearls is growing across the world because of their unique shine and colour, said a leading Bahraini jeweller.
Those carrying the Bahrain certificate of authenticity are especially popular because of the country's world recognised high laboratory testing standards, said Mattar Jewellers owner Ebrahim Khalifa Mattar.
'The Gulf pearl is unique and is popular for its high lustre because the Arabian Gulf is very salty,' he told our sister newspaper Gulf Daily News (GDN) as a participant at the Jewellery Arabia exhibition, which ended yesterday.
'The Gulf pearl price is becoming very high and this is very positive for our business. I think we have the best laboratory in the world and any piece that has the Bahrain certificate has added value.
'Bahrain is the only country in the world that has a law prohibiting artificial pearls, so the people should feel they are getting 100 per cent natural.
'I think Bahrain, especially in the last two years, has added a lot of Bahraini divers and this gives us support for this business.'
More about future outlook for Gulf Pearls
Buy Persian Gulf Pearls here.