Handmade Conch Men's Ring with Leaf Engravings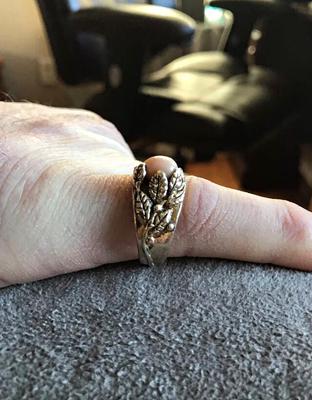 Handmade conch men's ring with leaf engravings
Type of pearl: Conch Pearl


Weight: 2-2.5 carats
Shape: Oval
Size: 6 x 8mm
Color: Light salmon pink
Location of Origin: Nassau Bahamas in 1980
Metal: 14 carat gold
Beautiful carved leaves wrapped up the band to the pearl. Nautical look. Has a beautiful patina.
The pearl is from Nassau and the ring itself was designed and produced in Seattle WA.
My father grew up in Panama and Dominican Republic. Starting at the young age of 13 he was chartering people's sailboats all over the area, picking up local pearls and gems all over the South Pacific, Caribbean, and Bahamas.
This particular conch pearl was very special to him as he used it as the main stone his wedding ring that he had designed himself as you can see in the photos. My father is a very talented artist mostly jewelry and scrimshaw (pre ban) this ring is special to our family but we would be so happy to see it go to someone who will truly appreciate the beauty of unique nautical jewelry.
Price: $2,500
SOLD!