How to Sort Pearls - A Few Tips
How to Sort Pearls
At a recent
Hong Kong
gem show one of my
pearl partners
handed me two parcels of clam and cassis pearls to
list on my site
. There were many pearls to now sort, weigh, measure, photograph, etc, etc.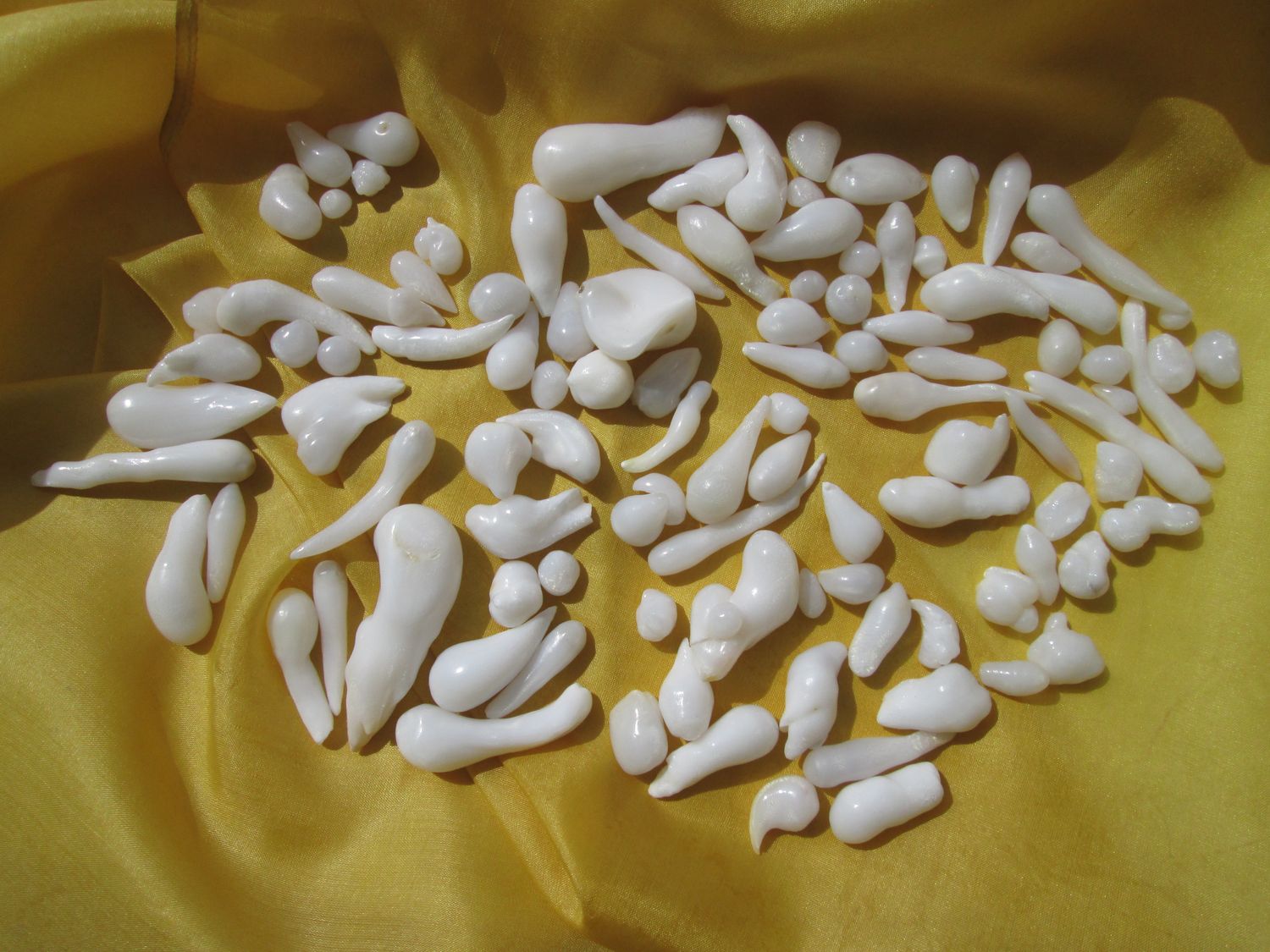 Clam Pearls on WW2 Japanese Silk
He'd already divided them between
flame
and little or
no flame
, so that helped the process get started.
The
sorting method
I've developed for myself is the following.
1.
Put pearls on a large plain colored tray with edges.
Edges are vital. Pearls roll easily. Plain colored is also helpful so that no decorations distract your eyes or hide the features of the pearls. I like using medium sized silver plated trays.
2.
Decide your goals.
Are you wanting to make a full strand necklace? Pairs? A bracelet? Brooch? Pendant and earring sets?
3.
Scan the pearls, like you're playing a matching game
and you'll be amazed at how your brain starts recognizing pearls that resemble one another. Start making pairs, sets or what you've decided you want putting them aside on another tray.
4. Since this batch of pearls was already sorted by flame
I looked first for matching shapes, then sizes
, then other characteristics like surface quality or flaws. Exactly matching natural pearls is almost an impossibility so I do the best with what's available.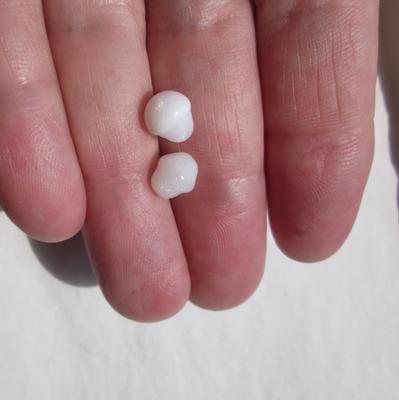 Pair of Bell Shaped Clam Pearls
5. Obviously, the more pearls you have to pick from the better the matching can be, but do your best.
Pairs don't have to be exact matches.
Like the above bell shaped pearls. The sizes are a little different but the flame and shape are amazingly similar. Sets can have variety. A bracelet or necklace can contain several shapes and sizes. Have fun and think outside the box.
For example, these three drops had a
similar shape but each was a different size
. I still think they make a great set and a creative designer can have fun working with them.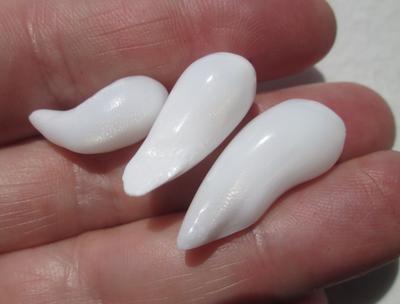 Three Large Drops
6.
Keep searching and setting aside pairs, triplets
and you'll find the source pool of pearls getting smaller and smaller. Every now and then look over the pairs you've set aside. There may be another to go with some of them.
7.
Take a break and let your eyes rest.
When you look at them again, you'll see the remaining pearls in a new light and again, you begin to spot pairs and sets.
8. Keep reminding yourself that
sets can be unique
. Not all the pearls need to be exactly the same. Ideally, the earrings will be similar and then a pendant to coordinate with them.
9. When you've exhausted the pearl choices
it's time to group them in random groups
maybe by sizes or shapes or even pairing a roundish with a drop or pairing a group of larger baroques for a flower brooch.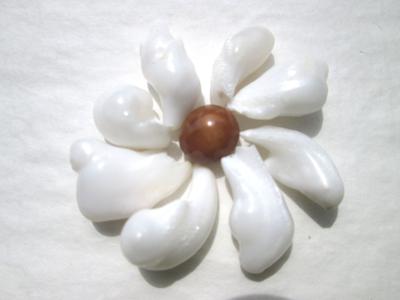 Flower Brooch Possibility
10. In my case, they all need to be listed so
I figure out some way to group them
or list them as singles.
I realize not everyone has the privilege of sorting so many pearls but I hope you find my techniques helpful.
I'd love to hear what you find works when sorting pearls or beads or gemstones, or nuts and bolts and nails!
We recently had a fluke here in the Iowa countryside and we were without internet service for almost a month.
I thought the world had come to an end!
Not really, but what a big change for us. We talked to each other, read books, went on walks and generally learned how to think again :)
So, now that our internet is functioning once more, I've started listing the
clam pearls here
. I have many more to add, so please check back.