I found a pearl in the shell
by Brian Young
(Myrtle Beach, South Carolina)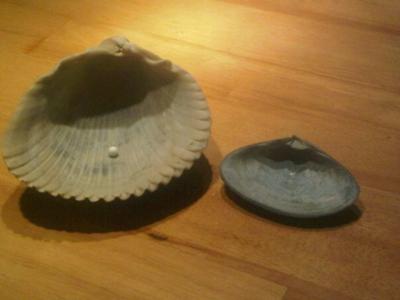 Pearl Found in a Shell
I was walking down the waterway here were I live in Myrtle Beach, South Carolina, saw a shell, picked it up cause my wife said it was pretty, put it in my shell bag and kept walking.


When I got home I started to wash the shells off. The mud and clay were stuck in them. I had them in a big three inch deep glass washing them off in the sink when I picked one of the shells up and noticed there was still a little bit of clay left in one the shells. I couldn't dig it out with my finger so I grabbed a butter knife and started to clean the clay that was stuck in the back of the shell when all the sudden a little white ball came out and fell in the glass dish that I was using. I picked it up and washed it off.
Then I realized what I just found. Possibly a pearl that is millions of years old because the waterway was man made back in World War I along the ocean to hide the ships from the bad people. So the army dug this thing and when they did they dug up a lot of old very old sea shells and until this day people find sharks teeth the size of a small cell phone that are millions of years old.
When I was 13 I found a bottom half of a elephant jaw still attached with the real round teeth inside the jaw. I gave it to my grandmother and she took it to a museum where they told her it was from a elephant that was around here millions of years ago.
So with that said, do you think I found something that's worth a lot because of how old it could be and where it was found and because it is rare?