Kaley loses a Tiffany pearl earring, then discovers its match in late grandmother's jewelry box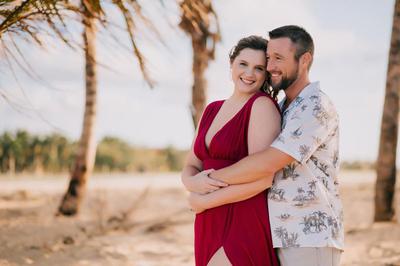 Kaley & Ryan on their honeymoon
Kaley Francisco was about 11 years old on a Disneyland Trip when her affinity for pearls began.


There they had oysters for sale with pearls inside.
Ever since then, she wanted the "Queen of Gems," jewels that date back to at least 420 B.C., and have been a staple in fashion ever since.
When she met her husband, Ryan, she told him about her love of pearls and how it all began.
So when her birthday rolled around, Ryan presented her a Tiffany's box with a note expressing his love and appreciation for her, and inside were two pearl earrings.
"I was shocked," said Francisco.
Even though she had told her husband, she was surprised he actually remembered and took the initiative to get her such a special gift.
She wore them daily, so when she and her husband took their honeymoon to the Dominican Republic in March, they were right there with her.
While on their trip, she and Ryan decided to get a couple's massage, and afterwards, she noticed one of the pearl earrings was missing.
Read entire article here: http://www.yourgv.com/lifestyles/county_life/halifax-county-resident-loses-pearl-in-dominican-republic-then-discovers/article_b9ff0b40-b2c1-11e9-b54f-2bc179e6a104.html