Be a Kind Kari When Traveling

Be a kind Kari. Travel puts stress on most folks...yes, it's fun, but waiting in airports, sitting in crowded airplanes, and jet lag add tension to travel....and those things are usually all unavoidable.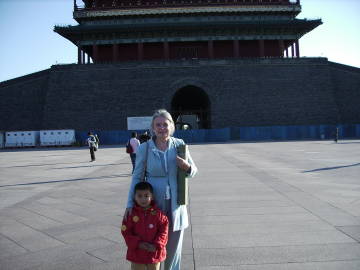 Kari with Little Boy in Beijing at Tienanmen Square
So, why not decide to be kind and helpful? We know the extra stress we personally feel and that should make us aware that everyone else around us also feels the tension.
Can You Offer Your Seat?
Are you sitting by a young mother with an infant? Are there empty seats around you? Could you possibly give up your seat next to her so she can have the needed room for her little one?
I once did that, much to the amazement of the flight attendants who kindly offered me an upgraded seat. Wow...what a pleasant surprise.
Nothing can be more annoying than stubborn adults who won't move a seat or two over to give room for a family to sit together.
I witnessed this once and I could hardly believe it! Even after the pleas of several flight attendants....they would not move for anything. These adults were rude. They were not like a kind Kari. They ended up adding tension to all of us in that part of the plane.
Crying Babies
Are you sitting by a crying baby? Well....haven't your babies cried at the wrong times too? Think about having a little patience and understanding.
This happened to me once when going from Baku to Istanbul. A grouchy lady told the young mother, "Anlamadim!" Which means, "I don't understand!"
My grasp of the Turkish language is very limited, but I happened to know that word and also the word for, "I DO understand".
Well....as a mother of seven children, I DID understand and said, "Anladim!" Which means "I understand!"
We continued the flight thinking of all sorts of ways of entertaining the youngster making it an enjoyable flight and I, kind Kari, even made a friend.
A Childish American Traveler
I recently returned from Europe and witnessed an argument on the plane between a middle aged American and a German flight attendant. I was embarrassed...embarrassed for the childish behavior of the man and embarrassed for my country. He was acting like a 10 year old....seriously. He was shouting, belittling the flight attendant, the airlines, anything he could think of to make himself look absolutely impossible.
This man exhibited no sense of understanding or cooperation. The really shameful part of it was that he was escorting 23 young people....what a terrible example he put before them all. I wouldn't doubt if he faced a drastic loss of respect in the days to come from this "team".
It is time to take seriously our sense of respect for one another when traveling.
Read more about my kind Kari trips here
.