Melo Melo Pearls
In the past, Melo Melo pearls were technically not called pearls...find out why.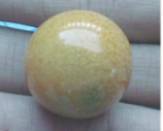 Melo Pearl from Vietnam
Desmond, now living in Vietnam, contacted me here at KariPearls....he must have known how I LOVE to hear about natural pearls...and sent me this photo.
This pearl is remarkable in several aspects--size, color, shape, and luster, surface...see for yourself, how lovely it is.
So...why in the past, was this pearl from Vietnam technically not a pearl?
The melo melo pearl is made of crystals of aragonite. Since these crystals are arranged perpendicular to the surface, they produce a flame like pattern which is called, chatoyancy ("shuh-TOY-un-see").
There was a time when these types of pearls were not even called pearls, but that has changed now. Non-nacreous pearls are very much pearls just like their nacreous cousins.
Hubert Bari says this about non-nacreous pearls in his new Pearls Catalog: "Here it is necessary to demolish an idea that is frequently encountered on websites and in books: the claim that only nacreous pearls should be called "pearls", while the others should be regarded as no more than 'concretions'. All the concretions produced by molluscs with shells are pearls, whether they are nacreous or not. They all have the same composition and are formed in the same way. Only the external appearance and the manner in which they react to light are different, which is not enough to justify differentiating one kind from the other in the nomenclature. In fact, the Gemological Institute of America has recently placed a ban on the differentiation between (nacreous)pearls and (non-nacreous) concretions. When you see the splendor of a Melo pearl, it is obvious that this distinction promoted by the lobbies of dealers in nacreous pearls is wholly unwarranted."
Melo Melo Pearl from Vietnam (Enlarged)
This photo is enlarged to show the fine flame details of this gorgeous 22mm 19.13 grams orange and round melo melo pearl from Vietnam...yes, those are fingers holding it.
Desmond's pearl is likely worth several thousands of dollars.
Melo Melo pearls can range in color from tan to orange to brown. with orange the most favorable. The color might fade over time.
All Melo pearls are natural as no one has yet to be successful in culturing them.
The Melo snail is used for food (Escagot-French for snail), but because they bear pearls from time to time the meat is searched carefully before boiling. Boiling ruins the pearls.
Melo Pearl with Shell
Class: GASTROPODA ORTHOGASTROPODA
Order: CAENOGASTROPODA - SORBEOCONCHA - HYPSOGASTROPODA - NEOGASTROPODA
SuperFamily: MURICOIDEA
Family: VOLUTIDAE AMORIINAE MELOINI
Also called Indian Volute, Bailer Snail, Melo Amphora.
Now....you think that's a big pearl? Well...it certainly is.
But wait...here's one called Sunrise Pearl...Largest of Melo Melo Pearls...it's the size of a golf ball, the biggest and roundest natural Melo Pearl found in the world!
This pearl has recently been purchased by a new owner. Previously, the owner turned down an offer for 7 million USD for the Sunrise Pearl.
Go to main natural pearl page.
Search here.
Photos and Text © by www.karipearls.com