Natural Black Pearl Necklace
Rare natural black pearl with 18K gold in two colors makes up this gorgeous classic necklace. Own a black oriental pearl and stun your friends.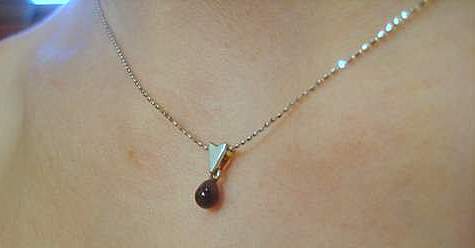 Rare Black Wild Pearl
Black pearls found in the "wild" are rare. Here is a fine example mounted on a reversible white gold and yellow gold pendant. Very few people will have one of these. Yes, you'll see black pearls, but only a handful of them are naturally made in the Arabian Gulf. Black pearls are seldom found in this gulf, so wear this with confidence that it is one-of-a-Kari-kind.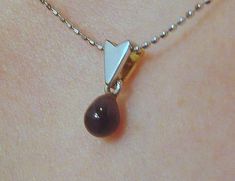 Black Saltwater Pearl
Color of pearl: Dark Brown and Grey (natural color)
Shape of pearl: Drop
Weight of pearl: 0.48 carat
Dimensions of pearl: 3.96 - 4.06 x 4.71 mm
18K White gold & Yellow gold (on reverse of pendant)pendant and chain
Certificate of Authenticity
Price $652 SOLD!