Natural Oyster Pearl
by kelly garza
(kingsville tx usa)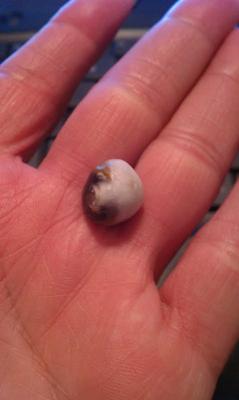 Brown & white natural oyster pearl
My boyfriend was eating a fried oyster and bit into a huge pearl. It is almost as big as a penny, white and brown in color. How can I found out how much its worth?


Kari's note: Wow...congratulations! Thanks for including a photo. I love to see photos! All natural pearls are special. Not all are valuable, however and some are worth more as keepsake items.

Finding a natural pearl is rare and the more abundant cultured pearls become the more special a natural pearl is in comparison.


2 appraisers I recommend are EGL in NYC. See: www.eglusa.com and Gina Latendresse at American Pearl Company in Nashville, TN. See: American Pearl Company

Thanks for sharing!