Natural Pearls from Galleon to be Sold at Auction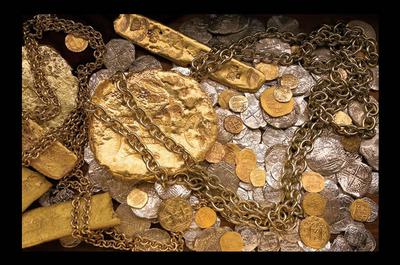 Atocha Coins
Part of the treasure of the Spanish galleon Nuestra Señora de Atocha, which sank off the Florida coast in 1622 after sailing into a powerful hurricane, will be auctioned off in New York on Aug. 5 by Guernsey's auction house, on the 30th anniversary of its discovery by U.S. treasure hunter Mel Fisher.


Almost 40 objects from the galleon, including an emerald cross, gold and silver bars, precious natural pearls and Spanish 17th-century coins, will go to the highest bidder.
Nuestra Señora de Atocha was the most famous of the nine Spanish shipwrecks in Florida waters, one that treasure hunters tried to find for more than 150 years before Fisher, with remarkable persistence, came upon it off Florida's Marquesas Keys in 1985.
The upcoming auction will sell some of the articles most treasured by Fisher, who died in 1998 at age 76.
The most valuable pieces are a golden chalice valued at between $400,000 and $500,000 (359,000 to 449,000 euros), two splendid natural pearls from the Nueva Esparta region - valued at between $300,000 and $400,000 (269,000 to 359,000 euros) - and an emerald and gold cross, intended as a gift from King Philip V of Spain to his wife Elizabeth Farnese, duchess of Parma, which could be knocked down for some $125,000 (112,000 euros).
Read entire article here.