Natural Pearls Kept in a Blue Vaseline Jar
Cheryl says, "I've had a jar of natural pearls for 64 years."
Read about her clamming adventure with she was a little girl in Minnesota.
When I was six years old my father decided to go into the clamming business for the summer. So, my parents, my two brothers and myself took our equipment and set up a camp on the Crow River near Rogers, Minnesota.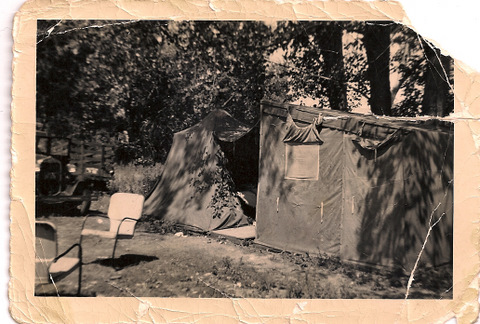 Bedroom Tent at Clamming Camp
Our camp consisted of two tents for sleeping quarters and a tent for cooking and eating.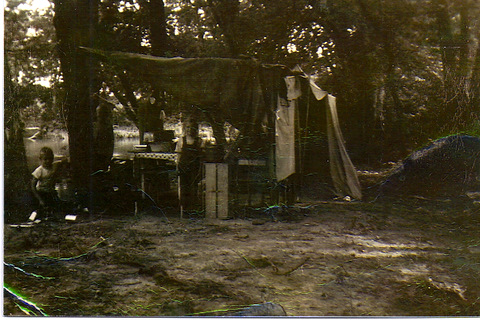 Kitchen Tent at Clamming Camp (Look closely to see me and my brothers.)
We had a long boat with a bar and hooks on the bar to catch the clams. This bar was lowered into the water and as the boat goes along it hooks into the clams. Then the bar is raised and the clams taken off the hooks and put in the boat.
Clamming Boat on Crow River
After a day on the river we headed back to camp. We have a stove made out of a long piece of galvanized tin. We put the clams in this stove and build a wood fire underneath, covering the clams with wet gunny sacks.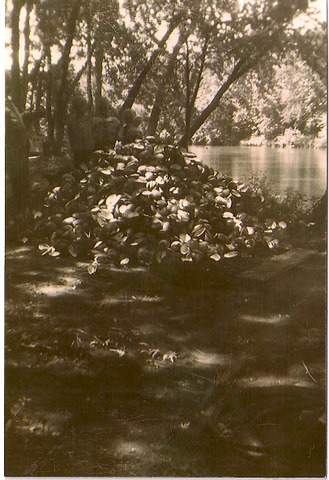 Clam Shells at Clamming Camp
In this way the clam meat is steamed out of the shells. When they are steamed enough the meat is taken out and put onto a table and the shells put in a pile to dry. The clam meats are then looked over to see if there are any pearls.
After a summer of clamming the piles of shells are sold to a buyer from the button factory. And then the shells are taken to the factory to be made into pearl buttons.
Thank you, Cheryl, for sharing your lovely story about clamming in Minnesota so many years ago.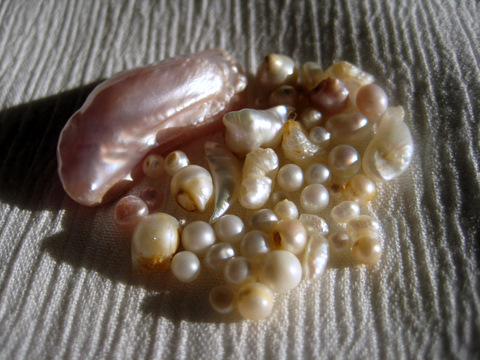 Crow River Pearls
Jim & Cheryl brought these neat photos of the pearling camp and their pearls to my home one afternoon. I was thrilled to meet them, hear about Cheryl's clamming adventure and see the photos and pearls.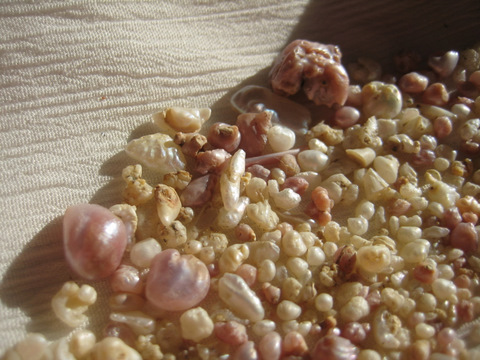 Minnesota River Pearls
The large pink 30 carat pearl is especially stunning! The percentage of pink/lavender pearls also was very interesting to me. I would say at least 30% of them were lavender or pink in color.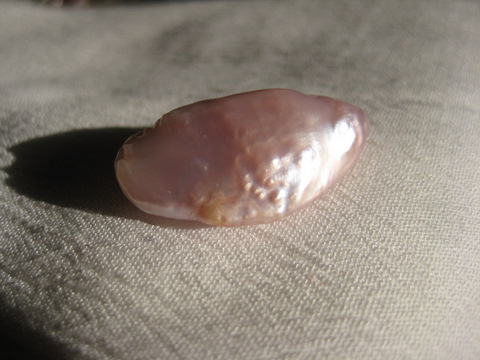 Natural River Pearl 30 carats for sale
Cheryl's mother has long ago separated the roundish pearls from the baroque shapes. Round pearls were the sought after ones, naturally and brought a higher price when sold.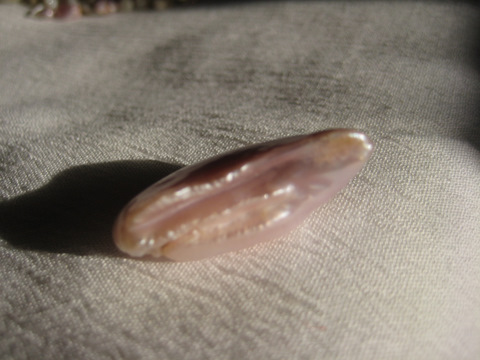 Natural Pearls 30 Carats for Sale
I was also amazed at the tiny, tiny pearls that were gathered and kept. Most of these are very round. They reminded me of the very minuscule pearls I saw in Bahrain. Somehow they had been drilled and a strand of these closely resembled a spider's web.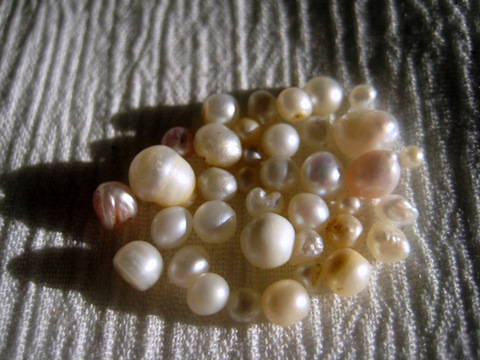 Round Natural Pearls
We joked about the blue Vaseline jar that Cheryl kept the pearls in as that too is now a collector's item.
Jim & Cheryl
Thank you, Jim and Cheryl, for making the effort to visit me and show me your pearls! Since I grew up in Minnesota I'm naturally intrigued by any pearls found there.
Purchase Cheryl's 30mm Pink Pearl
Purchase natural USA river pearls here.
Go to main natural pearls information page.