Noah's Flood Pearls
by K. Duane Erickson
(Evanston, WY, USA)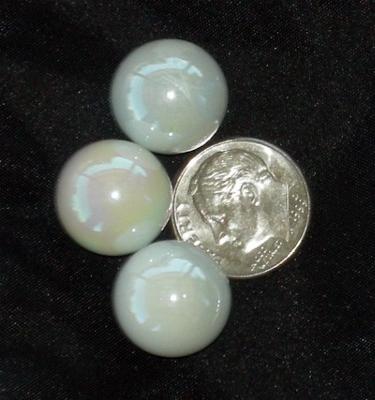 Fossilized Pearls from Wyoming
A while back, a young oil or gas line worker spotted something shining in the early morning Sagebrush. He picked it up, and noticed two others glistening. He pick them up.


This was on a flat topped Mesa in Wyoming, USA and it is about 7100 feet above sea level.
There are hundreds of these Mesa's in Wyoming and Utah and many of them have fossils on top of underwater critters. One Mesa near by was given the name by the Wagon Train party, as Oyster Mesa, and it still carries the name today.
My son Seth working on a Flat Topped Mesa at 7138 feet above sea level and above our home discovered a fossilized human finger.
The Flat-Topped Mesa's around this elevation, found all around the world are a product of an ancient body of water. A body of water, for the more part, covered the planet.
According to scripture, there was a worldwide flood at around 2248 BC, not millions of years ago. It has been taught that it baptized the earth, meaning the land was totally submerged. From geological findings, ancient written tablets, and now from where Noah's Ark has been found, this is not true. What else is not true?
There is one large place on our planet where there are no Flat-Topped Mesas. This is in the valleys left by the emptying of Lake Bonneville that covered most of five of today's states.
This would indicate, that Lake Bonneville was created after the flood at 2248 BC, not millions and millions of years ago. This is easily proven geologically. Another thing taught that is incorrect, What else is there?
To fossilize or Opalize an item they must be under massive pressures caused by water, as has happened to man, animals and plants alike.
It is believed that these pearls are a product of Noah's flood. We also have a rock box with metal tablets, believed by the translator, to have been created by Noah himself. Plus many thousands of other tablets that predate the flood.
For more information: bmsf(AT)mac(DOT)com