Non-Cultured Pearl Necklace Sold
Kari Pearl's rare non-cultured pearl necklace from Persian gulf round pearls on a graduated strand...was sold at Bonhams Auction, June 1, 2009.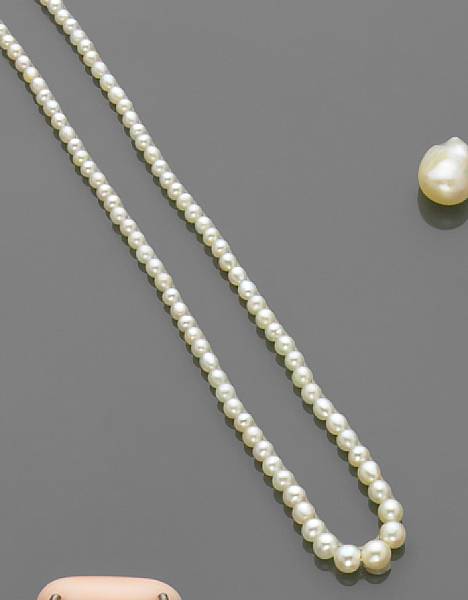 KariPearls Natural Saltwater Pearl Necklace
Photo used with permission
This rare and wonderful graduated natural saltwater pearl necklace was sold at Bonham's Auction house in New York city on June 1, 2009.
Natural Non-Cultured Pearl Necklace
Mollusk type: Pinctada radiata
Persian Gulf
This delicate and very pretty necklace is composed of 207 white to light cream natural pearls, graduating from 1.7 to 4.1mm at the center and weighing a total of approximately 23.07 carats.
The gems are exceptionally round in this lovely necklace. It is unusual to find a necklace like this.
Estimate: $1,200 - 1,400 Sold
Footnote:Accompanied by a gemological report #08/1166 dated Jun 05, 2008 from The Gem & Pearl Testing Laboratory of Bahrain state that samples were found to be natural pearls (due to limitations in the ability to test pearls which are 2mm or smaller).
More non-cultured pearls for sale
I am very pleased to offer natural pearl jewelry. Natural pearls are my favorite type of pearls and Persian gulf pearls are known for their luster and beauty. For centuries these were the world's most famous pearls and decorated the kings and queens of the world.
The Persian Gulf is nearly 600 miles long, with an average width of somewhat more than 100 miles. The Strait of Ormus--thirty to sixty miles wide--connects it with the Gulf of Oman, which opens directly into the Arabian Sea. The depth of water rarely exceeds thirty fathoms. Oyster-reefs are well distributed throughout the gulf, and are in greatest abundance on the Arab side between the 24th and 27th degrees of north latitude and the 50the and 54th degrees of east longitude, at a distance of from a few hundred yard to sixty miles from the shore, and especially in the vicinity of the Bahrein (Bahrain) Islands. The oysters are scattered over level areas of coral rock and sand, with depths ranging from two to eighteen fathoms. The divers rarely descend in deeper water than twelve fathoms, notwithstanding that valuable pearls are apparently obtainable at greater depths.