Buy Oriental Pearl Earrings
Feminine & dainty natural oriental pearl earrings...will make you feel young again!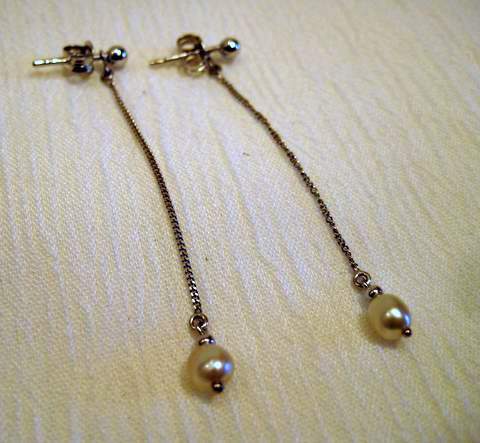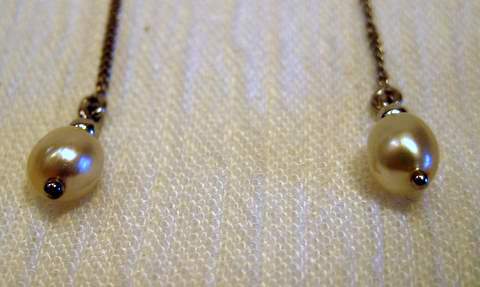 Color of pearls: Cream
Shape of pearls: Irregular Oval
Carat weight of pearls: 0.42 carat
Dimensions of pearls:
4.02 x 4.36 x 4.78 mm
& 3.99 x 4.53 x 4.94mm
18K White gold
Certificate of Authenticity

No longer available
The pearls on this page are unique items. Natural Persian Gulf pearls are among the most precious treasures of this earth. Each natural Bahraini pearl has been tested in a gemological laboratory in Manama, Bahrain guaranteeing they are natural pearls. A unique certificate of authenticity is included with each item.
These certificates are individually produced by a well respected pearl testing laboratory and include a photo of the specific pearls used in each piece of jewelry.
Go to main natural Arabian Gulf pearl jewelry page after oriental pearl earrings.
In describing the fisheries, which had been retaken by the Persians in 1622, Tavernier wrote in 1670, according to Ball's translation:
There is a pearl fishery round the Island of Bahren (Bahrain), in the Persian Gulf. It belongs to the King of Persia, and there is a good fortress there in Bahrain, where a garrison of 300 men is kept...When the Portuguese held Hormuz (Ormus) and Muscat, each boat which went to fish was obliged to take out a license from them, which cost fifteen abassis ($5.45), and many brigantines were maintained there in Bahrain, to sink those who were unwilling to take out licenses. But since the Arabs have retaken Muscat and the Portuguese are no longer supreme in the Gulf, everyone who fishes in Bahrain pays to the King of Persia only five abassis, whether his fishing is successful or not. The merchant in Bahrain also pays the king something small for every 1,000 oysters. The second pearl-fishery is opposite Bahren (Bahrain), on the coast of Arabia-Felix, close to the town of El Katif, which, with all the neighboring country, belongs to an Arab prince.