Rare Pearl Collection For Sale
on June 1, 2009
This may be a once in a lifetime opportunity to own a very rare natural pearl collection of rare pearls and their corresponding shells. Wow! It took decades to collect these.
Diverse Natural Pearl Collection with Corresponding Shells
An astonishingly beautiful group formed over a period of several decades, including many rare and unavailable species, with a wide selection of both nacreous and non-nacreous natural pearls found in oysters, snails and various other mollusks from the Atlantic, the Caribbean, the Sea of Cortez and the Pacific Ocean.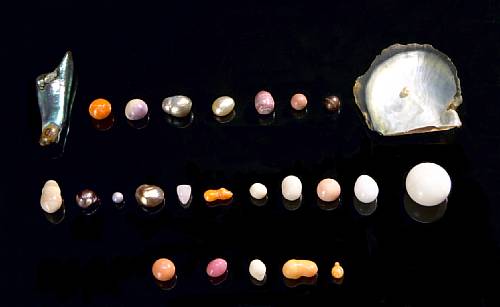 Collection of Rare Non Cultured Pearls
1) Haliotis fulgen,, green Abalone pearl, 37.0 cts, 48mm; and shell
2) Melo melo, pearl, 6.0 cts, 10mm; and shell
3) Mercenaria mercenaria, a purple Quahog pearl, 5.5 cts, 10.0mm; and shell
4) Pteria sterna, pearl, 8.19 cts, 13.0mm; and a blister shell
5) Pinctada maxima, white-lipped oyster pearl, 4.00 cts, 10.2mm; and a blister shell
6) Lyropecten nodosa, Lion's paw pearl, 5.5 cts, 10.8mm; and shell
7) Malleus, "Hammer shell" blister pearl, 2 pcs
8) Scallop chlamys pearl, 2.43 cts, 6mm; and shell
9) Pecten pearl, 2.0 cts, 6.5mm; and shell
10 Pinctada margaritifera, black-lipped oyster blister pearl on shell, width 4.5cm
11 Spondylus sinensis, Thorny oyster blister pearl, 8.5 cts, and 15.5mm; and shell
12) Two Mussel pearls, 1.0 cts and 4.5 cts; and a blister pearl, (3)
13 ) Pteria penguin pearl, 5.45 cts, 12.0mm: and shell

14) Lima lima vulgaris pearl, 1.5 carats, 7.5mm: and shell
15) Cyprae cassispearl, 1.5 cts, 11.5mm; and shell
16) Pinctada margaritifera blister pearl
17) Two Periglypta chemnitzi pearls: 1.96 cts and 6.0 cts: and shell
18) Whelk pearl, 6.0 cts, 9.5mm: and shell
19) Atrira blister pearl
20) Limpet blister pearl
21) Two Squamosa pearls, one bouton-shaped, 37.5 carats, 18mm and one drop-shaped, 9.0 carats, 12mm
22) Strombus galeatus, Giant Eastern Pacific Conch, 5.0 cts; 9.5mm; and shell
23) Strombus gigas, "Queen Conch" pearl, 3.0 cts,8.5mm; and shell
24) Cypraea pearl, 2.5 cts, 8.2mm
25) Cassis pearl, 7.0 cts,13.5mm (2 pcs)
All weights and measurements approximate. (61 pcs)
Estimate: $25,000 - 30,000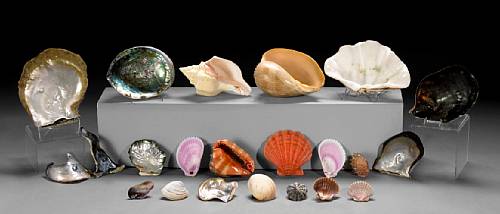 Collection of Corresponding Shells of Rare Pearls
I think this pearl collection is so incredibly amazing...and wanted you all to have the chance to bid on this. Go here to Bonham's site to learn more and bid on these rare pearls.
Photos and text used with permission.
Go here to learn more about natural pearls after pearl collection.