The Pearl Kiwi in Enameled Egg
The Pearl Kiwi -- Enamel, Baroque Cultured Pearl and Gem-set Egg Creation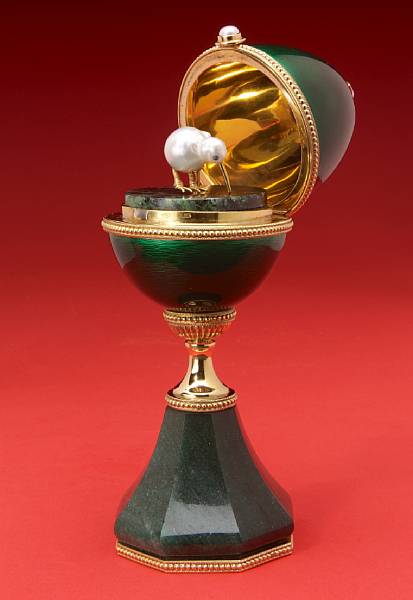 The Kiwi Pearl Bird by Manfred Wild, Idar-Oberstein, Germany
A fitting home for this diminutive version of the New Zealand bird is created within this green enamel egg. Covered in translucent emerald green enamel on a sterling silver guilloché decorated ground the egg is embellished with beaded 18K yellow gold decoration and two bouton cultured pearls.
It is raised on a tapering base carved of green aventurine quartz and opens to reveal a stick pin depicting a Kiwi formed of a double baroque cultured South Seas pearl (essentially two conjoined pearls), weighing approximately 16.28 carats, measuring 18.5 x 12.2mm. The eye is set with a faceted blue sapphire. The stick pink is removable from a polished circular inset base carved of ruby-in-zoisite, signed M. Wild.Height 5 ¾ in.
By Manfred Wild
Idar-Oberstein, Germany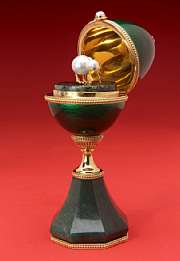 Text and photo published with permission by author, Claudia Florian, G.J.G, Co-Director of Bonhams.