Pearl Names According to Form and Appearance
Pearl names according to form and appearance.
Paragon: formerly used to designate large and exceptionally perfect or beautiful pearl, usually weighing over one hundred grains.
Round: when a pearl is absolutely spherical, as if turned on a lathe, without any flattening or any indentations on the sides.
Button or Bouton: if the pearl is domed on top and has either a flat or slightly convex back.
More Pearl names according to form and appearance.
Pear-shaped: when the pearl is formed like a pear, terminating in a point, and is either flat at the lower end or rounded.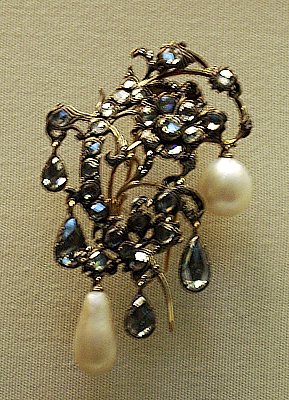 Pear Shaped Pearl
Drop-shaped: when the pearl is elongated like a pear, but is larger at the lower end than a pear-shaped pearl.
More Pearl names according to form and appearance.
Egg-shaped: when ovate in form, rounded more or less at each end, or formed like an egg.
Cone-shaped: applied to pearls that are elongated and rounded with one flat end, and have the form of a cone.
Top-shaped: a name given to those pearls that are broad, flattened at the top and rounded on the sides, terminating in a point, like a top.
More Pearl names according to form and appearance.
Seed Pearls: pearls that are round or irregular, and weigh one fourth grain or even less. They are frequently so small the 18,000 are contained in a single ounce, and they are often sent from the East in bunches of about a dozen or so of strings.
Dust Pearls: when seed pearls are very small they are known as "dust-pearls"; they are really as fine as dust adn have a very little value; still their form is in many cases wonderfully perfect.
More Pearl names according to form and appearance.
Petal Pearls: those which are somewhat flat, frequently more pointed at one end than at the other, and have the appearance of a petal or leaf.
Hinge Pearls: pearls that are long, generally pointed at either or both ends, and are found near the hinge part of the shell. They are divided into two distinct forms, namely dog-tooth, and wing-shaped.
Wing Pearls: those that are elongated or irregular, resembling a wing or part of a wing.
Dog-tooth: applied to pearls with pointed ears, elongated, and which are narrower than the wing pearls.
Slugs: a name used for the very irregular, distorted pearls, frequently made up of masses or groups of small pearls; usually without luster or form, and of little value except for medicinal purposes.
More Pearl names according to form and appearance.
Nuggets: when the pearls are somewhat round, but are indented or slightly irregular.
Haystacks: when the pearls are either round or oval, with the top considerably elevated.
Turtlebacks: when the pearls are a trifle longer than they are wide, with a domed surface not much elevated. This form is quite prevalent among American pearls.
Strawberry: those that are round or elongated and entirely covered with prickly points, somewhat resembling a strawberry or pickle. It is believed that these irregular marks are frequently produced by minute pearls.
More Pearl names according to form and appearance.
Blister or Chicot: names applied to those pearls that are found embedded within a nacreous coating, often containing mud, water, or imperfect mother-of-pearl. After these "blisters," as they are termed, are broken, and a layer after layer has been removed from the contents, very fine pearls have frequently been found.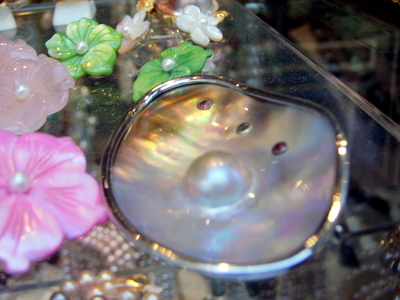 Blister Pearl
Peelers: a term applied to pearls having imperfect surfaces or skins that may have some inner layers which are perfect. Pearls having opaque bands or rings are rarely peeled with much success as this opaque layer frequently extends to some depth.
Cylindrical: for pearls that have the form of a cylinder, being elongated and flattened at each end.
Hammer: when pearls are long and somewhat rounded and assume the shape of a hammer or barrel. These are rounded or domed at the side and flattened at the ends.
More Pearl names according to form and appearance.
Half-pearls: the name given to such pearls as are round and spherically domed, and are either somewhat flat or almost the shape of one half of a whole pearl of the same diameter. they are usually made by cutting off the bet part of a hemispherical bright spot from a large irregular pear; frequently two to four cuttings are made form the bright spots of a single pearl, each of the cuttings having the appearance of half a pearl.
Baroque (Wart pearls in German): when pearls are not of any perfect form such as round, pear, ovate, or any regular form, they are termed baroque, and this term covers a large class of varietite, a such as all that follow.

Baroque Pearls
Double, triple, or twin pearls are those that are made up of two or more pearls united together in a single nacreous coating, showing, however, that they are still separate pearls.
Pearls Clusters
Monster: this name was formerly applied to very large, irregular, pearly masses which either resembled some animal or were adapted to form the head, trunk, or other part of an animal: these are also occasionally called "Paragons."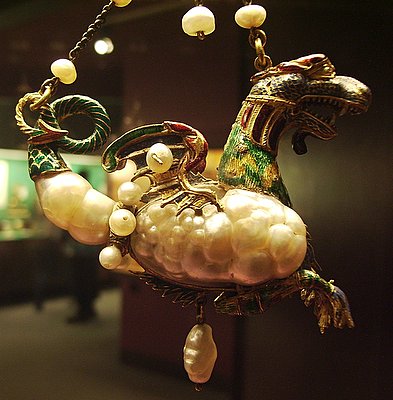 Monster Pearl
Bird's-eye: a name used for a pearl that has dull spots, giving it the appearance of a bird's eye.
More Pearl names according to form and appearance.
Ring-a-Round: is a term applied to such pearls as are black, brown, pink, or white, and have a circle running around the pearl itself of some distinctive contrasting color, as white on black, pink on brown or black on white.
Embedded: those that are partly or entirely surrounded by mother-of-pearl, having been enveloped and passed outward form the interior of the shell by the mollusk so that in time the pearl would have been lost on the outside of the shell. These embedded pearls are occasionally found in the manufacture of mother-of-pearl articles. when the mother-of-pearl is split, the pearl will fall out from between the layers.
Read about other types of pearls after pearl names according to form and appearance.
Find pearl meanings in this extensive pearl glossary.