Pearl Power at Tucson's Gem Show
Pearl Power at Tucson's Gem Show


In pearls, it's all about interesting shapes, unusual combinations and rich natural colors, with Chinese freshwater pearls generating the most excitement. The New York–based DSL Pearl Inc. introduced products that combine interesting pearls, including new bead-nucleated freshwater pearls from China, which many in the industry call "fireball," in big, baroque shapes and natural colors like lavender and peach. Pearl strands in 18-mm to 20-mm-plus sizes, which wholesale for $1,000 and 13 mm to 16 mm, priced at $800, sold out by the third day of the show.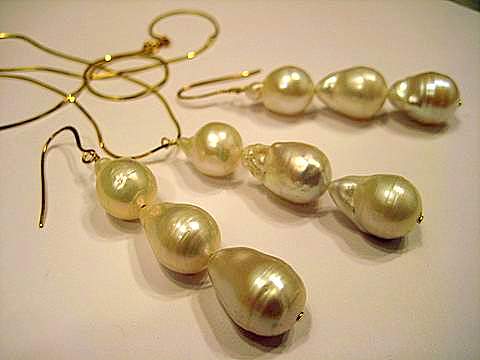 FireBall Pearls Photo by Kari
"We also did well with mixed strands of peach freshwater pearls with bluish-white South Seas, which wholesale for $6,000 to $7,000 in 13-mm to 16-mm sizes, and $8,000 to $9,000 for larger sizes," explained DSL partner Danny Livi, while exhibiting at the AGTA GemFair.
Causing the biggest buzz on the sales floor at the AGTA GemFair was a new pearl product launched by Sea Hunt Pearls of San Francisco, dubbed Soufflé Pearls. "The method of cultivation is a new step in the coin pearl/spherical bead nucleation process," explained wholesaler Jack Lynch, who discovered the pearls on a buying trip to the Far East in the fall of 2009. "First a coin pearl is grown in the mussel and, after it is harvested, there is a pearl sack. Previously, the choices would be to insert a bead nucleus for a 'fireball' pearl or put it back in the water with no nucleus in hopes of a keshi. With this process, nucleators take pond muck, form a dried hard mass and insert that as a nucleus. As the pearl forms, water seeps into the area with the nucleus and dissolves the muck. When the pearl is drilled, the muck drains, leaving negative interior space."
Lynch notes that the walls of these new hollow pearls are actually quite stable at about 3 mm thick, adding that only one or two pearls can grow per shell, with cultivating time of about two years. He said sizes range from 13 mm to 20 mm plus.
More about pearl power at Tucson's gem show here.