Natural Pearl with Sapphires
Invest in a natural pearl with sapphires pendant and 18K gold chain. Blue sapphires highlight this gorgeous Persian Gulf natural pearl.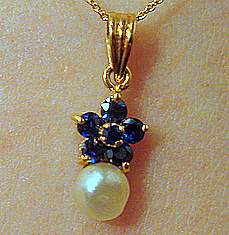 Natural Pearl and Gemstones
For centuries the Persian Gulf has been famous for its oriental pearls. Few are being found today...they are a rarity. This charming confidence building pendant with sapphires is a treasure and the accompanying certificate of authenticity guarantees that your purchase is for a "wild" pearl, one that was not initiated by any doing of man.
Color of Pearl: White and light cream
Shape: Semi-Baroque
Carat weight of pearl: 0.53 carat
Dimensions: 4.76 s 4.45 s 3.55 mm
18K yellow gold pendant and chain
Six Sapphires
Certificate of Authenticity
SOLD!
view Kari's Catalog after natural pearl with sapphires.
More natural pearl necklaces here.
In the ninth century these fisheries of the Persian Gulf and Bahrain were noted by Massoudi, one of the earliest Arabian geographers. In the latter part of the twelfth century they wer visited and described by the Spanish-Hebrew traveler, Rabbi Benjamin of Tudela. The Arabian traveler, Ibn Batuta, wrote of them about 1336. In 1508 they were noted in the account of Lodovico Barthema's expedition to the Island of Ormus. According to him:
At three days' journey from this island they fished the largest pearls which are found in the world; and whoever wishes to know about it, behold! There are certain fishermen who go there in small boats and cast into the water two large stones attached to ropes, one at the bow, the other at the stern of each boat to stay it in place. Then one of the fishermen hangs a sack from his neck, attaches a large stone to his feet, and descends to the bottom--about fifteen paces under water, where he remains as long as he can, searching for oysters which bear pearls, and puts as many as he finds into his sack. When he can remain no longer, he casts off the stone attached to his feet, and ascends by one of the ropes fastened to the boat. There are so many connected with the business that you will often see 300 of these little boats which come from many countries..