Pearl-Divers of Japan: The 'Ama'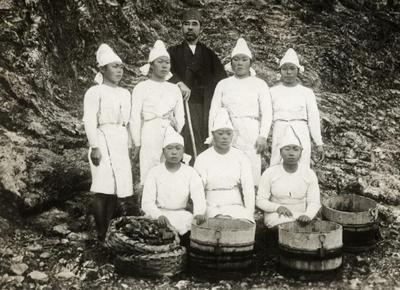 Female pearl divers next to Kokichi Mikimoto, inventor of cultivating pearls. Japan, 1921.Nationaal Archief | Wikimedia Commons
Priya Shukla writes: In celebration of International Women's Day 2019, I wanted to shine a spotlight on the ama, a title that has been ascribed to the famous female pearl divers of Japan.


Ama, which means "sea woman" in Japanese, have been diving in Japan for 2,000 to 3,000 years with records dating back to an 8th-century anthology of Japanese poetry: the Man'yōshū. Historically, women were considered fit to be ama because their higher fat content would help them endure the near-freezing temperatures of seawater that they had to dive in. They would begin their ama training at the age of 12 with an older family member and would then dive until they were 70 or 80 years old.
While ama didn't historically dive for pearls, the demand for ama increased after Kōkichi Mikimoto developed a method for culturing pearls in 1893. Dressed in all-white "suits", the Mikimoto ama would guard these cultivation operations in the water. Additionally, because producing a pearl requires introducing an irritant (such as a grain of sand) into an oyster, the ama would also place the oysters out of harm's way once the intruder was introduced.
Read her entire article here: https://www.forbes.com/sites/priyashukla/2019/03/08/meet-the-female-pearl-divers-of-japan-the-ama/#5f4a141d3338