Necklace & Bracelet Pearls for Sale
Lovely woven white pearls for sale -- necklace and bracelet set. There is a skill in doing this type of pearl weaving and it makes for a brilliant effective use of smaller white pearls for sale.
This gorgeous set was made in the Philippines by some talented folks who know how to take a bunch of small pearls and weave them into these fantastic chunky ropes of pearls.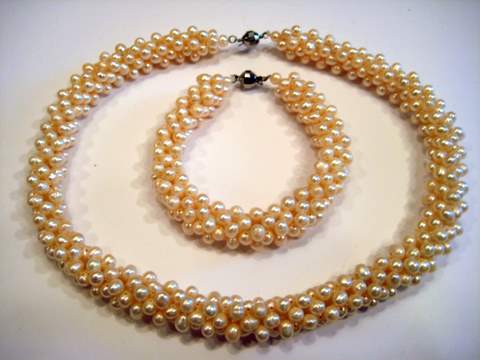 Freshwater Pearl Necklace & Bracelet
I cannot imagine how much time it would take to make these, but it would be fun to learn. Maybe next time I am in the Philippines I can track down a willing teacher and then I can make my own. Most of the jewelry on my site I make by myself, not all, but most. Designing new styles is a relaxing pastime for me.
Woven Pearls
Make a fashion statement with these eye-catching pearl pieces. I've sold out of the pink sets I had like these and sorry, I've also sold out of the white sets too.
Freshwater Pearl Set
Pearl type: Cultured Freshwater
Pearl Shape: Off Round
Necklace Length: 18.25"
Bracelet Length: 7.5"
Sorry, this style is no longer available.
Go to main white pearls for sale after this page.