Pearls in a Can?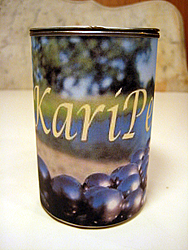 Can of KariPearls
Pearls in a can is a nifty way to not only mail pearls, but it also gives the receiver a lovely reusable container which will remind my customer/friend of KariPearls in the days to come.
Ever since my daughter, Anna, brought home the new can opener, I knew it would open up worlds of possibilities for me. The new safe-cut or sidecut can opener from "Good Cook" now opens cans without the dangerous sharp edges and also makes the cover replaceable, not in a sealing sort of way, but in a replace the cover sort of way.
Since I haven't graduated to sending my pearls in boxes yet, I'm always looking for some practical way to protect them from danger when I mail them.
These empty, clean soup cans are not only recycled in this great way of providing mailing protection for pearls in a can but they also provided my customers with a clever reusable container which reminds them of my great pearl company, KariPearls.
Larger orders can be placed in larger recycled cans.
For anyone wanting to try this, first buy a "Good Cooks Safe-Cut or Sidecut" can opener. We bought ours at WalMart. (And, for your convenience, I have also included a place on this page to purchase this can opener.) Print out a label. A regular soup can takes the width of a typing sheet, so if you print out two photos on a regular sheet of paper, with only a little trimming at the bottom, you have two labels.
Add a little note or a business card, a nice pouch, place in a padded mailing bag and you're all set.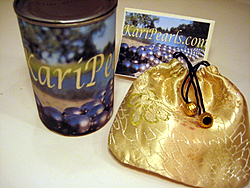 Can of Pearls
Recycling will always be in style and important for our world. The more we keep out of the landfills the better, right? This also helps keep business costs down, which helps us all.
Larger cans, of course, could be used for large orders.
Several different sizes of cans could fit together for a set of nesting toys for children....just another idea for you.
When I send pearls (except for baby and child bracelets), I include a silky gift bag which is my favorite way to store pearls. These silky gift bags fit neatly into the can.
Boxes have their place, but in the end, I usually never keep them anyway, unless they are super fancy. Silky gift bags can be used in soooo many ways, even as a coin purse for all that loose change.
So, by using soup cans, I save money for both my customer and my business, remind people of my great business, recycle responsibly and have fun being creative!
The very first customer to receive my new "Pearls in a Can" said this:
"The pearls are so pretty. I loved the can. It's so cute and useful. Everything screams handmade and I love it! Thanks so much.".
Katie Bon
If you cannot make the quick trip to Walmart, you can also purchase the Good Cook Safe-Cut or Sidecut opener here.
Can of Pearls
Check out other ideas and art pages after pearls in a can.