Three Strand Pink Pearl Necklace
This fun pink pearl necklace is versatile with the chain extension and three strands.
Pewter is very popular in the Scandinavian countries and these clasps are pewter.
I was just looking yesterday at a small pewter Viking ship that was a gift from a Norwegian cousin's wife.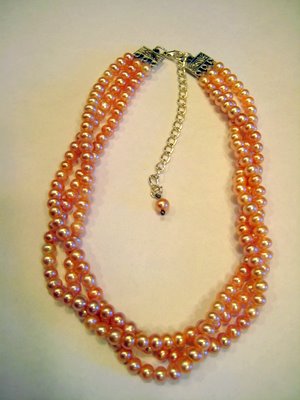 Three Strands

You can read about my Norwegian heritage here. I'm blessed to have detailed records of my heritage on both sides of my family.
Pewter Clasp
These necklaces can sit tightly next to the neck if twisted and hooked close to the pearls. They can also be lengthened and worn loosely untwisted.

Size: 5-5.5mm
Color: Pink - Natural color
Shape: Off Round
Luster: Medium - Lots of great shine
Surface: Near perfect - few imperfections
Clasp: Pewter with extension chain
Length: 15-18" More lengths available
Knotted between each pearl
Sorry, this necklace is no longer available.
Everyone should have at least one necklace of this color in their wardrobe. You'll be amazed at how often you find yourself wearing these gorgeous naturally colored gems.
Dainty pearls look great on smaller people, but when there are three strands like this one, they also look great on queen size figures. Longer strands can be made. Just contact me for prices of longer necklaces.
Go to conch pink pearl.