Rare Gray Natural Pearl Necklace Sells for $5.27 Million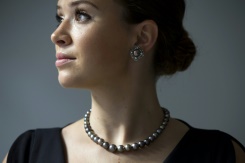 Cowdray Pearls
HONG KONG - A rare grey pearl necklace that once belonged to a British aristocrat sold for HK$41 million ($5.27 million) in Hong Kong on Wednesday, auctioneers Sotheby's said.


http://www.reuters.com/video/2015/10/07/pearls-sapphire-set-new-world-record-at?videoId=365865178
The string of pearls was part of the collection of Viscountess Cowdray, Lady Pearson.
The buyer, a private collector from Hong Kong, made the winning bid by phone.
Viscountess Cowdray, who died in 1932, was famed for her collection of furniture and works of art, as well as jewellery. The pearls were first put up for auction in 1937.
In 2012 the same necklace was sold for $3.35 million at Christie's in London.
A pearl necklace and sapphire ring break world records at a Sotheby's auction in Hong Kong. Both lots were snapped up by the same private Asian collector, according to Sotheby's Chin Yeow Quek. Sotheby's Chin Yeow Quek, Sotheby's Chairman of International Jewelry, saying: "We are very, very pleased that we got two new world record prices. Of course there is the 'Cowdray Pearls' which is one of the most beautiful strands of pearls ever to come up at auction. It was previously offered by us, auctioned, offered by us in 1937. And to resell it now in Hong Kong is a great, great pleasure and a great honor. And to get a world record price for natural pearls in gray, is really tremendous." The final price for the single strand of natural gray pearls strung and mounted by Cartier -- a whopping $5.26 million (USD). The 27.68-carat sapphire and diamond ring known as the 'Jewel of Kashmir', sold for a $6.7 million (USD), setting a new record for price per carat for a sapphire. While turmoil in global markets has impacted some luxury goods sectors, Quek says mainland Chinese buyers were still out in force. Sotheby's Chin Yeow Quek, Sotheby's Chairman of International Jewelry, saying: "Although the mainland Chinese may be a little bit more careful about their spending, they were out in good number today as you can see. They were bidding in the room, in person and on the telephone and they have been really very much a part of the jewelry market for us here in Hong Kong. So we are rather pleased with their presence here in Hong Kong." The jewelry sale ended a five day auction of art, wine, watches, ceramics and furniture, which netted Sotheby's $342 million.