A Visit to Seventh Day Adventist Church in Belfast North Ireland
On a brisk fall Saturday morning I walked by a Seventh Day Adventist Church in Belfast North Ireland and went in to join the worshipers.
I'm glad I did, because the next day, Sunday, proved to be a busy day of traveling to Dublin and left no time for church.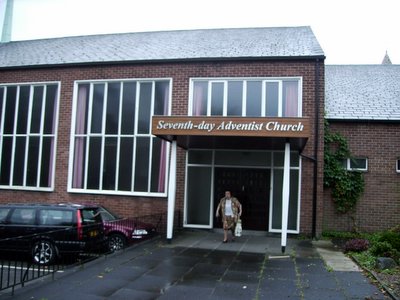 Seventh Day Adventist Church in Belfast North Ireland
On the ferry over to North Ireland I'd met a young mother who was an avid Seventh Day Adventist member. She enjoyed their intellectual emphasis. Meeting her probably opened me to the idea of joining this church for their Saturday service.
I'm not particular about the day I worship on...I just like to worship God and don't think we need feel trapped into a certain day, although routine and sticking normally to the same church helps develop stability and builds bonds of friendship.
So, as I passed the Seventh Day Adventist Church in Belfast North Ireland precisely at 10AM and noticed folks going in and the sign which pronounce the service time as 10AM...I was happy to join them.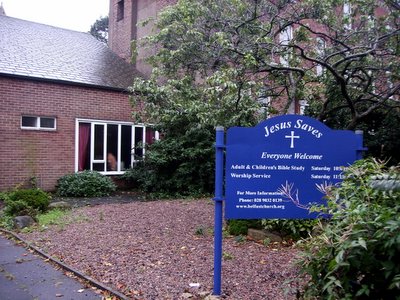 Jesus Saves Seventh Day Adventist Belfast North Ireland
A lady taught an excellent adult Sunday school lesson filled with facts, reasonings and basic persuasions. Her very professional manner helped me see what the young woman on the ferry had in mind.
Sunday School Seventh Day Adventist Belfast
A lady in my same row "took me under her wing" and asked that I sit by her. We shared a hymn book through the worship time of the main service. It was nice to be noticed and cared for...something many churches can improve on...including our own.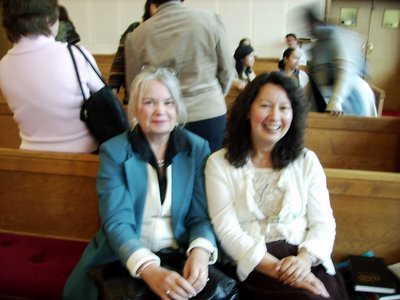 Friendly Face at Seventh Day Adventist Church Belfast North Ireland
One thing that stuck me was the formality of this service which reminded me of the large Lutheran country church I attended as a child. The charismatic services of my present church have steered away from most of this formality. There is a place for both formality and informality...God is big and His truth is everlasting...and I'm beginning to understand what Jesus meant when He said new wine needs new wineskins.
It made me wonder what church services around round tables with coffee and discussion would be like and have discovered since my wondering that there are such services which are called "post modern".
I enjoyed a colorful video of Seventh Day Mission work, which prompted me to loosen my pocketbook a little. Naturally, they were promoting their denomination, but mainly they were preaching Jesus and that's all that really matters to me.
A young pastor gave a heart-felt and sincere message and announced that following the service was a foot-washing. Oh my!....my casual strolling into the Seventh Day Adventist Church in Belfast North Ireland, for a service is now looking at taking three hours....a little longer than I'd planned.
But...the foot washing was fun. We each just washed one other lady's feet and blessed her as we washed. It wasn't all long and spooky as I'd feared and I'm not a foreigner to the practice.
Then cookies and coffee and my new friend introduced me to a few of her friends. One lady became very excited when I told her I lived on a sheep farm and was interested in wool...she too did needlework and we struck a common cord.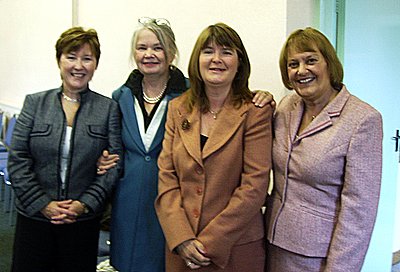 New Friends at Belfast Seventh Day Church
Yes, these were great people, with a great church, the Seventh Day Adventist Church in Belfast North Ireland. God's spirit is in many places, even if we choose to emphasize different aspects of the gospel...it is still the gospel of Jesus and He is what holds all things together.
I was glad to spend three hours in God's house...even on a Saturday.
Also, for those of you interested in such things as dreams and visions I'll share an impression I had during this service at the Seventh Day Adventist Church in Belfast North Ireland. It was of a mountain rising up in the mist of Belfast. I had no initial impressions whether this was a good thing or a bad thing...but after much thought about it and prayer I am sure it is a good thing, like the mountain being Mt. Zion, a strong symbol of Jesus Christ, ruling and reigning in Belfast, North Ireland.
My impression, the service I attended at the Seventh Day Adventist Church in Belfast Ireland, my loving encounter with the
Belfast police
the night before and visiting with
street preachers
have given me good hope for Belfast.
Skip on over to Kari's main page after Seventh Day Adventist Church in Belfast North Ireland.