South Sea Pearl Necklace
The coolest golden South Sea pearl necklace all wrapped up in sterling silver. The single large 13mm pearl is left undrilled and is a real beauty!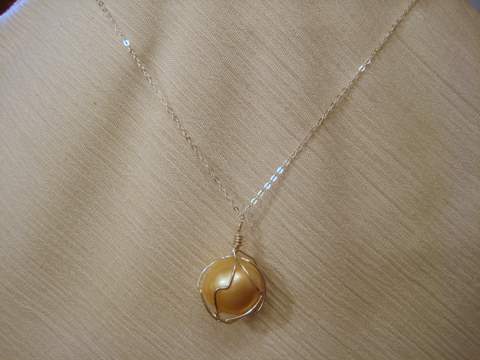 Golden South Sea Pearl Necklace for Sale
I have had this gorgeous golden South Sea pearl now for some time and finally decided to wrap it up all cozy in some sterling silver wire. I love it when these gorgeous cultured saltwater pearls can remain undrilled. That way, years from now, if you decide to use this lovely yellow pearl in another necklace you have total flexibility.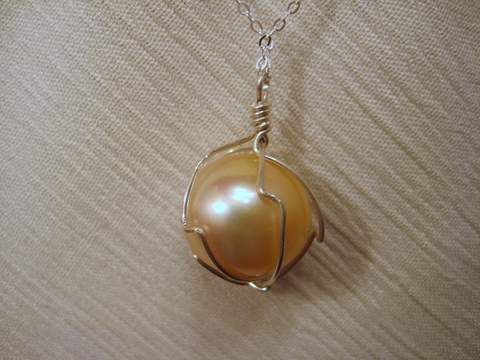 Golden South Sea Single Pearl Necklace for Sale
This lovely golden saltwater pearl was cultured in the Philippine Islands. If you've never been to the Philippines, I recommend you visit sometime soon. The beaches are simply delightful and the waters pristine & clear...but watch out for Mr. Sun, he can scorch you quickly!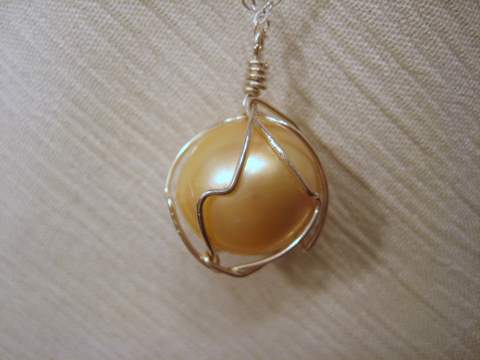 Golden South Sea Undrilled Pearl for Sale
The natural vibrant golden color shows through marvelously through the six strands of sterling silver wire I wrapped this beauty up in for display and safe keeping.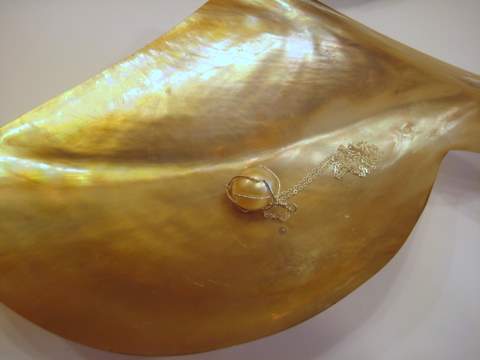 Golden South Sea Pearl on Golden Lip Oyster
I think you'll find that this single South Sea pearl drop will go with tons of outfits and it I wouldn't be surprised if it gave you lots of mileage and became one of your "frequent fliers" as you dash through your busy days and nights.
Pearl Type: Cultured South Sea
Pearl Color: Natural Golden
Pearl Size: 13mm
Pearl Surface: Excellent
Pearl Luster: Very High
Pearl Shape: Round
Metal Type: Sterling Silver
Necklace Length: 18"
Price: $169.00 SOLD!
Go to main natural pearl page after South Sea Pearl Necklace.
See my non-cultured baroque pearl jewelry here.
KariPearls Ezine Sign Up
Search here.