Szentendre Doors

Szentendre doors in this city on the Danube River near Budapest, Hungary.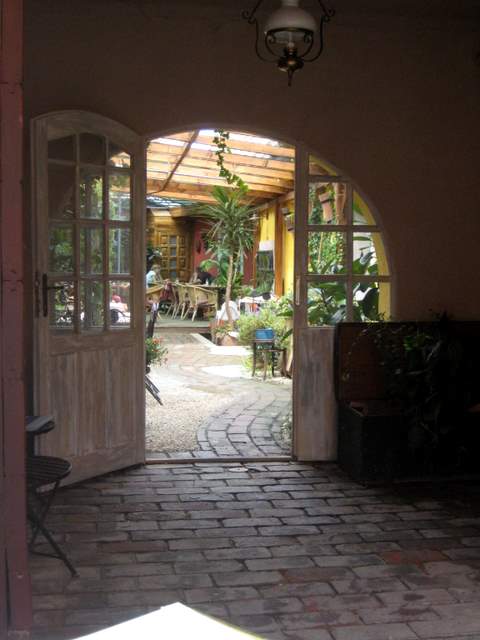 Hungarian Tour - Door of Szentendre
Photos of doors by Kari
When in Budapest, be sure to make the effort to visit Szentendre. It's a fun and inspiring place, filled with museums like micro museums. That's the kind of museum you can only enjoy through a microscope.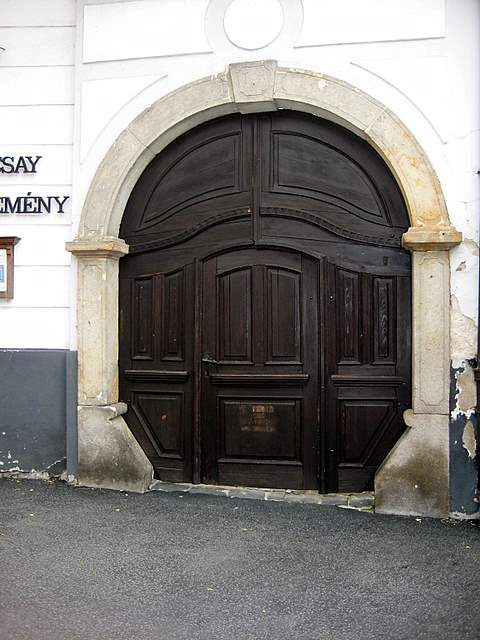 Fancy Szentendre Door near Danube Tour
Speaking of micro art, I was recently at an auction at Bonhams & Butterfields in Los Angeles, California and was anxious to see the beautiful mosaics I had seen advertised. They were nowhere in sight! I then realized they were "micro" sized and needed a microscope to view.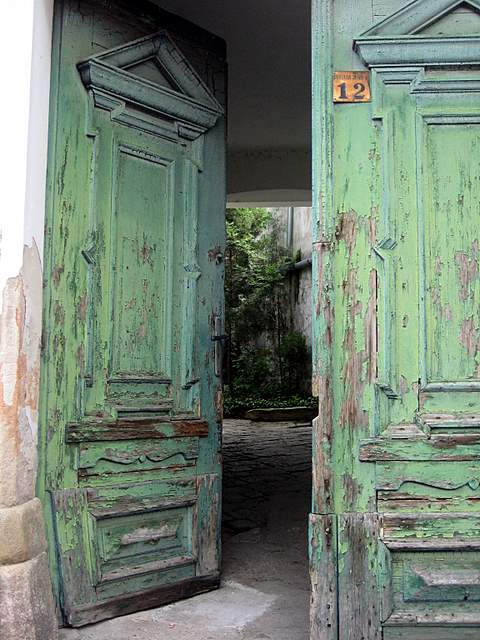 Green Shabby Chic Door
Those tiny intricate pieces of art went for a pretty penny and were snapped up very quickly by eager collectors.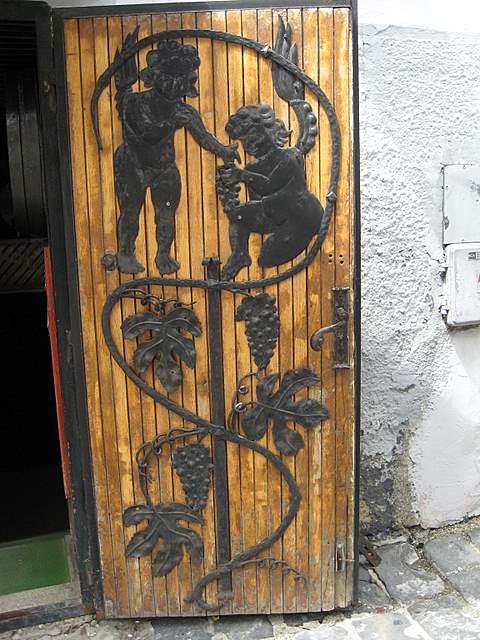 Angel with Grapes Door
Mark and I enjoyed an afternoon in Szentendre which is also on the Danube river and only a short train ride from Budapest. A friend suggested that we not miss this place and I'm grateful for her advice.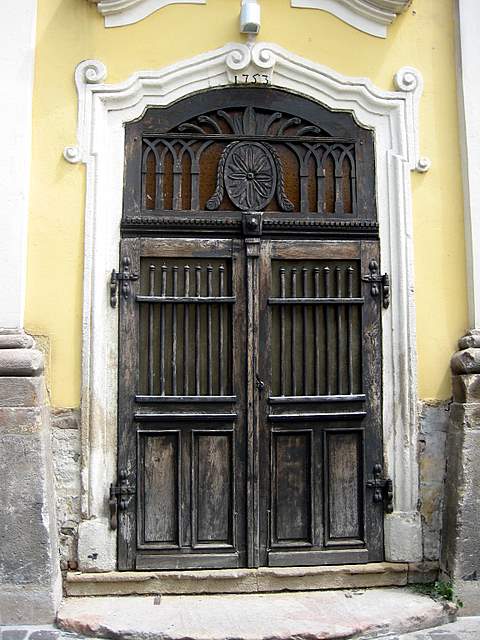 Handmade Door with Details
There is something for everyone, antique textiles....one of my loves, unique fashions...another love, robust jewelry...yes, another interest, even Norwegian hardanger embroidery...and who doesn't love that?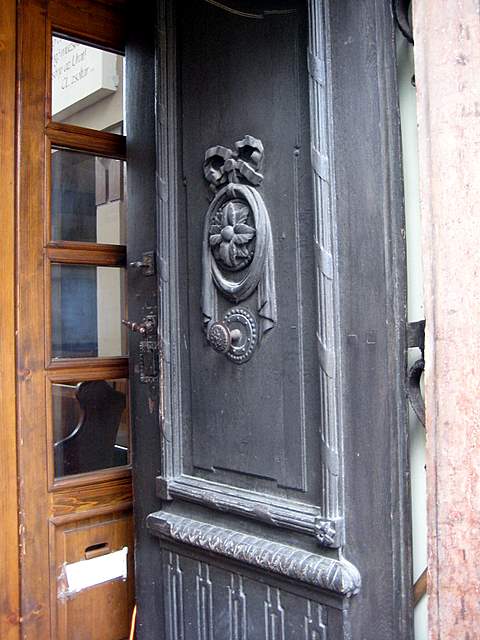 Door with Floral Knocker
I recognized this craft as being Norwegian since my mother had sometimes done this type of handiwork and wondered what it was doing in Hungary.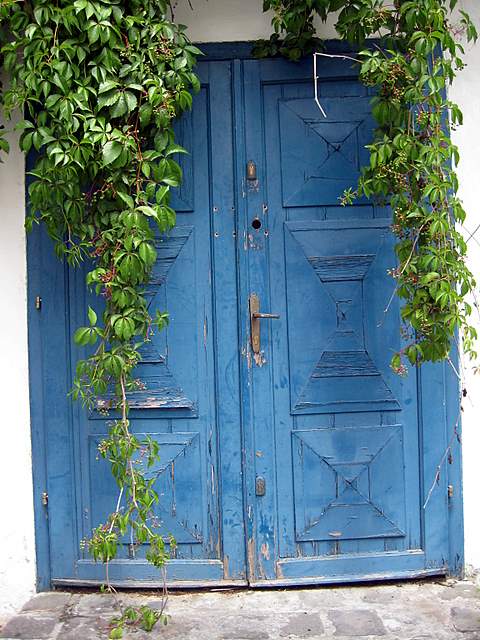 Blue Doors with Vines
I asked about these beautiful pieces of excellent craftsmanship and sure enough, they were just what I thought, Norwegian Hardanger. Years ago a generous Norwegian lady came to Hungary and taught the village ladies this skill and now it is a standard form of needlework in Hungary. Small world we live in, isn't it? I only wish I had invested in some of the pieces while I was there.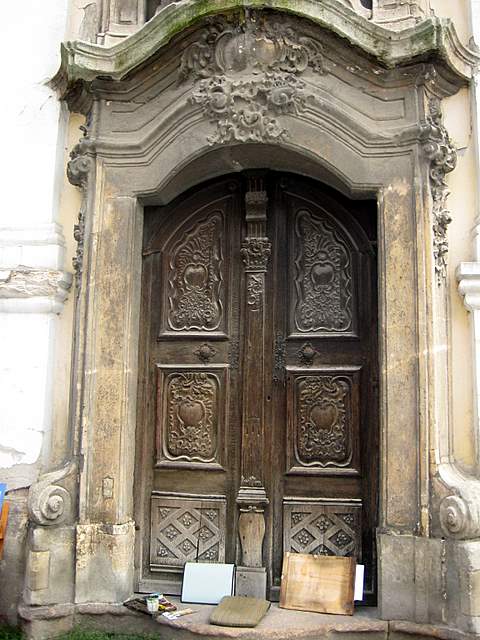 Ornate Door with Artist's Tools
Szentendre is an inspiring place with a wonderful
jewelry museum
. The jewelry museum offers a complementary ride from downtown to there museum on the outskirts of the city.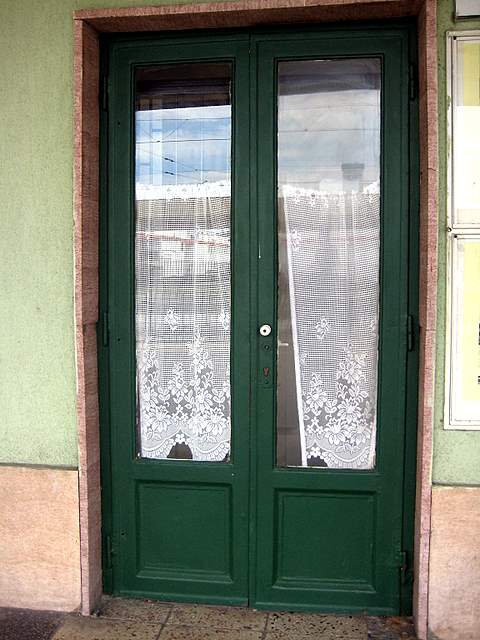 Green Glass Doors with Lace Curtains
The jewelry museum has a wonderful display of
antique pearl jewelry
.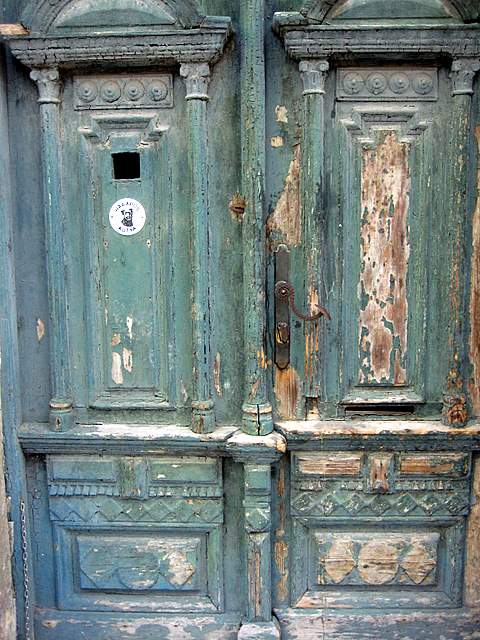 Blue Carved Doors
Love marzipan? There's even a museum for that there. You are sure to find something of interest to you in Szentendre, Hungary!
The Szentendre doors entice one to enter each and every one of them. They draw you inside which is a good thing for this city since it thrives on sales from its many vendors and interesting shops.
See where else I've been after Szentendre doors.