Vintage Art Deco Natural Saltwater Pearl Diamond Clasp Necklace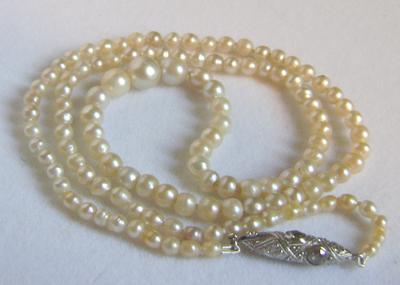 Vintage Art Deco Natural Saltwater Pearl Diamond Clasp Necklace
Type of pearl: Natural saltwater


Carat Weight: 8.9 grams (weight of necklace)


Shape: Round to Off-Round


Size: 6.41mm to 2.37mm


Color: White and Cream


Location of Origin: Persian Gulf


Clasp Metal Type: 14K white gold


Necklace Length: 18"


Certificate: EGL, US310924401P


Price: $4,150 SOLD!


This beautiful natural saltwater pearl clasp dates from about 1930. There are 121 pearls ranging in size from 6.41mm (center) to 2.37mm. The pearls vary from white to cream and have beautiful luster. The necklace has just been restrung on white silk and is 'princess' length, about 18" -- this will sit well on almost any neck.
The beaded and milgrained 14k white gold clasp shows fabulous Deco style, and is set with three Old European cut diamonds (brighter than the photos show) and three single-cut diamonds.
Total weight of the necklace is 8.9 grams, showing that these pearls have good density (almost forgotten now, but in the past density was a strong factor in determining price).
The certificate is of course included with the necklace, together with an appraisal for $6,400.