Vintage Art Deco Natural Saltwater Pearl Necklace, 18K Diamond Clasp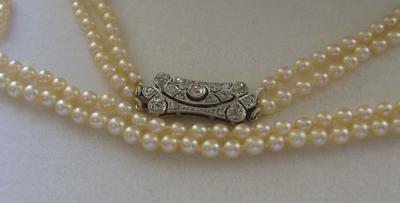 Vintage Art Deco Natural Saltwater Pearl Necklace, 18K
Type of pearl: Natural saltwater


Weight: 11.2 grams (total weight of necklace)


Shape: Round to near-round


Size: 3.21mm to 2.98mm


Color: Cream/Pinkish


Location of Origin: Persian Gulf


Clasp Metal: 18K white gold


Length: 16" inches


Certificate: EGL (New York), US312175903P


Price: No longer available.


This elegant double strand necklace of essentially uniform natural saltwater pearls dates from circa 1920. The pearls are round to near-round, and have that incomparable creamy pinkish glow found in the best pearls from the Persian Gulf. They are superbly matched for color and luster.
The large (3/4 inch length), intricately designed clasp is 18K white gold, set with a European-cut diamond and 20 rose-cut diamonds. The beauty of this clasp, combined with the uniform size of the pearls, make it perfect to show off worn to the side, rather than the back of the neck.
The necklace measures 16 inches, ideal for a small to average neck, and weighs a substantial 11.2 grams. The certificate shown, as well as appraisal for $8,050, are included.
Antique natural pearls are increasingly rare, and double strand necklaces even more so. For centuries, men fought and died for natural pearls, not the products of cultured pearl farms. Collect these rarities while it's still possible to do so!