Classic 9-10mm Freshwater Pearl Set
This affordable 9-10mm freshwater pearl set is one of those classic pieces so necessary for your wardrobe....it goes with almost every outfit in your closet and makes you feel "like a million".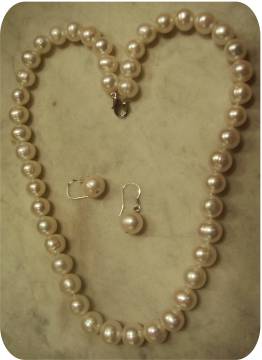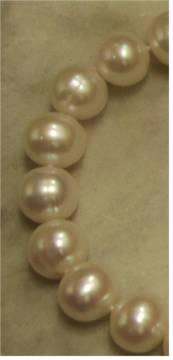 We all "need" one of these...don't you agree?
Whenever you want to look really professional and well dressed OR...when you're out to have fun and dressed casually in a colorful t-shirt and blue jeans going out to lunch with a friend...this necklace adds that extra touch that gives one a rich, woman-about-town feeling.
It's fantastic, yet understated at the same time...dated, yet timeless.
This necklace is what you'll see on Jackie Kennedy's "White House days" photographs.
But don't be fooled....into thinking it's outdated...this classic necklace is JUST THAT...CLASSIC!
Classics don't go out of style....they keep on doing their job of dressing us up and giving us that "special-one-of-a-kind look."
The earrings alone work well alone without the necklace...for an added touch to your countenance.
Pearls aren't just for Sunday anymore!
Classic white pearl necklace of 9-10mm freshwater pearl set.


Shape: These pearls are quite round, not perfect, but almost.
Surface: Small imperfections
Length: 17.5 inches
Lobster clasp
Matching dangle earrings
Knotted between each pearl
Price:$74.00
Free shipping--Free silky gift bag--90 Day Return Policy

This style is no longer available.
Return to main white pearl page after 9-10mm freshwater pearl set page