Abalone pearl inside a blister pearl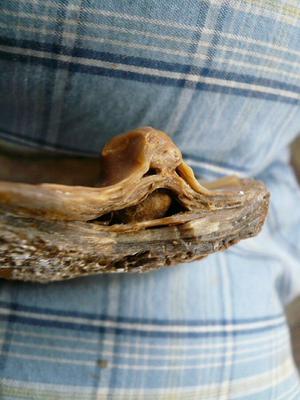 Abalone pearl inside a blister pearl
Type of pearl: California Red abalone


*Carat Weight: 8.5 carats
*Shape: irregular
*Size: 11+mm
*Color: brown
Location of Origin: Morro bay California
Unique Features: Natural pearl inside a blister pearl
Price: $402
Sorry, no longer available.
This was found partially buried in the soil. Upon inspection of the blister I saw what look like a separate pearl inside of the blister pearl. After grinding down on the exterior the pearl inside just came out of its own accord.
I had heard that abalone pearls could be found embedded in layers of the shell and found on this particular one that it is true.
This is being offered as a specimen or for study purposes.
No attempt has been made to restore the nacre if that is even possible.