Abalone Pearls Sold

Abalone Pearls which have SOLD
Click below to see abalone pearls that have sold.
Type of pearl: Natural California Abalone
Weight: 6.5 carats
Shape: Roundish
Size: 12mm X 15mm
Color: Lovely Blue Green
SOLD
More photos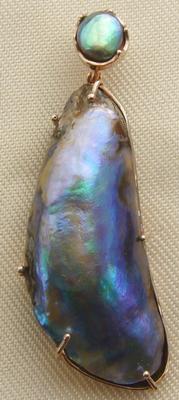 Double Natural Abalone Pearl Pendant
Natural Abalone
Size:
Large Pearl 46mm or 1.8 inches
Small Pearl 9mm
Color:
Iridescent blue, green, silver
Origin:
New Zealand
Metal:
10K Gold
More Photos
Price:
$3329 SOLD!
Kari's note: This exquisite double abalone pearl pendant showcases the two natural abalone pearls magnificently.
***********************************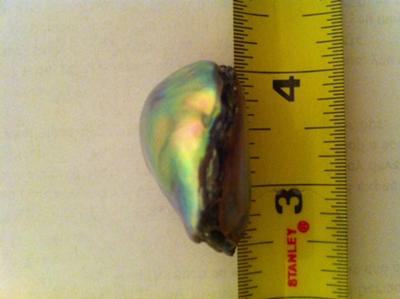 Carat Weight: 160.24 cts
Size: 41.00 X 32.30 X 21.20 mm
Color: Multicolored
(No longer available)
More photos
******************************************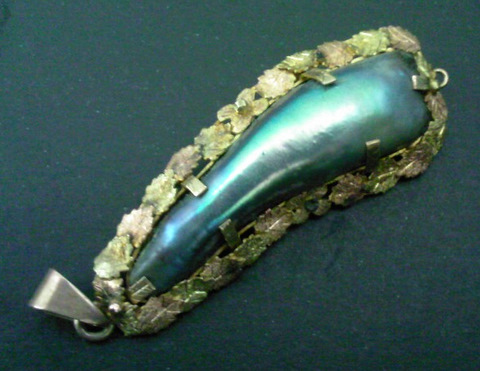 Abalone Pearl Pendant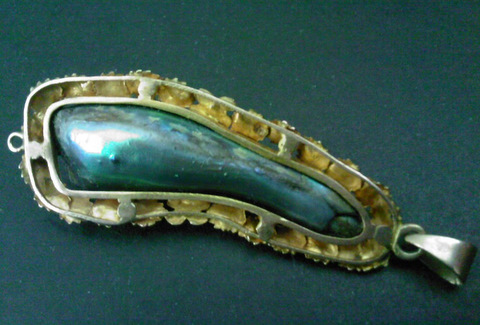 Antique Abalone Pearl Pendant
A few years ago, I received this pendant as part of a parcel of jewelry. I appraise antique jewelry, and I knew it dated from the early part of the 20th century and was fashioned from green and pink gold. The pearl was a mystery to me; large and beautiful, with a fine luster, but I had never seen anything like it. I put it away and forgot about it until I started visiting a local abalone farm. I showed it to the abalone farm owner the pendant and his eyes opened wide "That is the finest and largest natural abalone pearl I have every seen!" he said. You can imagine my surprise when I learned what a rare and special gem I had. I collect ruby and sapphire; pearls, especially large natural pearls were new to me. I am offering this pendant for sale for $2,936 USD. I would like to see it added to the collection of a collector who will appreciate it. My friend at the abalone farm told me that this pearl had formed in the gonad area of the abalone, which accounted for its fine luster and large size. The entire pendant, including the original bail is 2 1/4 inches. From the design of the pendant, I am quite sure that a natural American Mississippi river pearl hung from the empty jump ring at the bottom (If you contact the owner of this website, I am sure she can provide you with a Mississippi pearl to replace the lost one). I have not tested the gold in this pendant; I don't want to take the chance of damaging this exquisite and rare pendant, but I do believe it to be at least 10k gold.
SOLD!
Kari's note: This is one of the most tastefully designed natural abalone pendants that I have seen and I am proud to offer it for sale on my site.
***************************************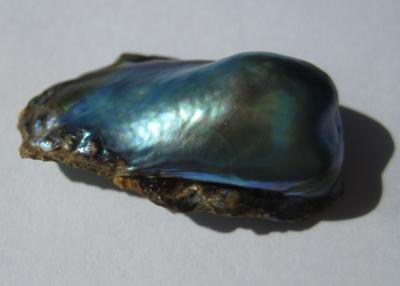 25mm Abalone Pearl
13.85 carats
25 x 14 x 7.5mm
Baroque Shape
More Photos
SOLD!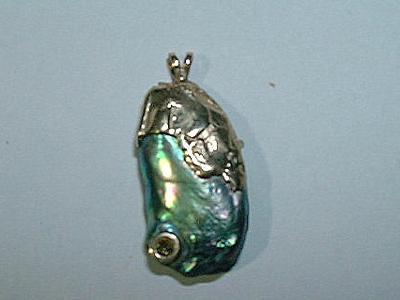 Carat Weight: 11.7 cts
Size: 24.63 X 13 X 6.16mm
Color: Green, Blue, Pink
Clasp Metal Type: 14k Yellow Gold 1.7 grams
Price: $2,400 - No longer available
More photos
See abalone pearls for sale!