Ama Pearl Divers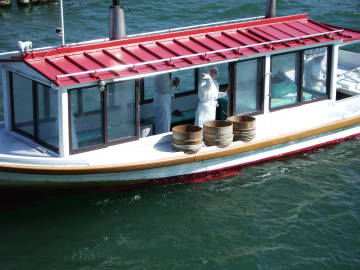 Ama Pearl Divers (photo by Kari)
Ama Pearl Divers of Japan


THE elderly women sit in a semicircle by a smouldering fire, warming up after diving for shellfish delicacies in the cool waters off the coast of Toba in Japan. These women, called ama - Japanese for women of the sea - are part of a tradition spanning thousands of years. Their diving practice is mentioned in ancient classical literature and there's a reference to ama dating back to AD927 in Japan's Heian period.
Toba, at the north-eastern end of the Shima Peninsula in Mie Prefecture, once flourished as the castle town of the Kuki family, who ruled the region from the 16th century. Today, with its many offshore islands, Toba is a popular holiday destination for beach-goers, surfers and seafood lovers.
But it is the living legends, the ama, whom I have come to see.
The ama of this area traditionally presented abalone to the shrine of Ise Jingu and imperial emperors. Today, we visit two traditional diving huts, called amagoyas, and are warmly welcomed. At our first stop, two ama, aged in their 70s, with weathered faces and warm smiles, tell us about their life in the sea.
They burst into laughter as we try to converse by nodding, smiling and pointing and then resort to our interpreter. She asks if we saw the James Bond film You Only Live Twice, where a glamorised version of an ama emerges from the
sea. The ama laugh at its unrealistic portrayal. We hear how, as young girls, these women started diving without oxygen tanks and wetsuits, collecting abalone and shellfish. Reiko Nomura, 77, says she's a fourth-generation ama and very proud of her profession. She was taught everything she knows by an elder ama and she, in turn, has taught others.
The ama have developed a unique method of breath control to protect themselves from the bends. After surfacing they let out a long whistle. Their sea whistling, described as a mournful melody, is rated among the top 100 soundscapes of Japan.
At one time, ama dived for Akoya pearl oysters but this has long been abandoned because of the rise in cultivated pearls, a process invented in Toba by Kokichi Mikimoto in the late 19th century. The coastline here is rugged, with pebbly bays and rocky headlands, and is an ideal habitat for sea urchin, abalone, various forms of seaweeds and Pacific spiny lobster. Collecting abalone is hard work and the ama use a long stick, descending eight to 10 metres, either diving from small boats or swimming out from the beach. They only have as long as their breath holds - about 60 seconds - to prise the bounty from the rocks.
Read entire article about Ama pearl divers of Japan.
More about Ama divers & Mikimoto Pearl Island:
Ama divers of Mikimoto Pearl Island
Mikimoto Pearl Island main page